Hello and welcome to my blog.
I am participating in the #writebravely #writetribeproblogger October 2017 challenge. The story I am attempting to write is not about just one 'Asha', but many like her in our society. The trauma and heartbreak her parents go through has been experienced by many more such helpless parents. This story highlights the issue of dowry demands and domestic violence in our society. Today's post is part six of the story.
Today's prompt is a quote from Brené Brown: You can choose courage, or you can choose comfort, but you cannot choose both.

Links to the first five parts of the story are given below. Do read these before reading today's story as it is a continuation. Don't miss out on crucial twists and turns of the story.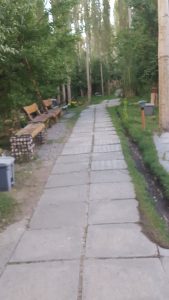 Uma sat reading the newspaper. Pankaj Udhas's soulful ghazals were playing softly in the background. The doorbell rang just when her favorite ghazal started playing and she walked to the door reluctantly, this was her Me-time.
She visibly brightened up on seeing her friend, Madhu, standing outside. Madhu's daughter, Shama, was seven years older than Asha and had studied in the same school as her. Shama had moved out of their building to go live in a paying guest accommodation closer to the airport after she'd joined the ground staff of 'FlySmart' airline at Delhi airport.
Mrs. Madhu Kapoor is always smiling cheerful and happy-go-lucky kind of person; unconcerned about the sniggering and gossiping going on behind her back. She is proud of her daughter's accomplishments and happy for her. Her daughter has risen to the rank of the Base manager of 'FlySmart' at Delhi airport. Shama is 40 and single; happy with her life and enjoying her job. Mrs. Kapoor visits her every week and spends a couple of days at her place. Today she looked worried and anxious; Uma thought something had happened to Shama.
'Madhu!  What happened? Why are you looking so disturbed? Is Shama okay?'
'Shama is fine. She just got a promotion and a hefty raise. She is thinking of buying a house at Dwarka, close to the airport.'
'Then why do you look so glum? Let me try to cheer you up with my special adrak (ginger) tea.'
'I don't know how to tell you this. Um..ah..um…'
'You are beginning to worry me now. Spit it out, Madhu. What's eating you up?'
'A girl from Shama's airline mentioned a dispute that happened near her house.'
 I'm sorry to hear about it but what has that got to do with me?'
'Shama knows for a fact that this girl lives in Asha's Lane and she mentioned a man named Vilas. He was the main accused in this incident.'
'No! She must be mistaken. I spoke to Asha an hour back and all was okay with her. When did this incident take place?'
'Last night, at around midnight.'
'Then she is surely mistaken. It must have been some other person.'
'I'm sorry, Uma. When I heard that a man named Vilas was involved in the case I thought it was Asha's husband. Please forgive me.'
'Why? You had my best interests at heart. I know how much you hate gossiping. Thank you for looking out for me and my family. Let's make that tea now.'
 Uma called up Asha immediately after Madhu left.  Asha picked up the phone after 5 to 6 rings.
'Hello ma.'
'Hello beta. How are you?'
 'Ma, we spoke today morning. Have you forgotten? I'm the same, good.'
'Thank God! That Madhu aunty of yours scared me.'
'Why, what did she say?'
'Her daughter's friend heard about a domestic dispute in your lane and she hinted it was you. And that Vilas was involved in it.'
'So silly! Ma, I was getting dressed to go for a movie with Vilas. He will be home soon and if I am not ready, he will sulk.'
'Go,go, get ready. Enjoy your movie. You can do all this only till your baby comes, then you will be stuck in the house for a long time.'
'Okay. Bye-bye, love you.'
'Love you too, beta. God bless.'
Vilas loosened his innocent looking but punishing grip on Asha's arm only after she had disconnected the call.
'Why did your mother call up twice today? Tell her once a day is enough.'
'Sorry, I will tell her tomorrow. She just misses me a lot that's all.'
'I could send you to your parents place for a few days? Is that what you want?'
'No! I'm happy here. This is my home now.'
'Good girl! Now run down to the kitchen and get me some tea and snacks.'
Asha hurried out of her room; she was worried Vilas might create a scene because of her mother's call. As she prepared tea for her husband she reasoned with herself
'Keeping quiet is better than raising my voice. He gets angry if I stand up to him. It is better to give in to his unreasonable demands. At least my parents sleep easy thinking I am happy and spending all their life's savings on my marriage was worth it. Rocking the boat isn't an option for me. It's a price I've to pay for staying married, however unhappily.'
Or was it?
Should she have chosen courage?
Let me know in the comments section.
I am taking part in The Write Tribe Problogger October 2017 Blogging Challenge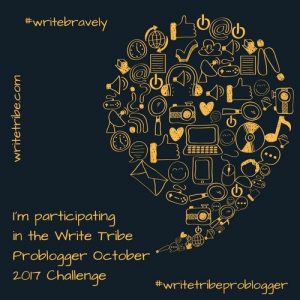 By Sulekha Rawat