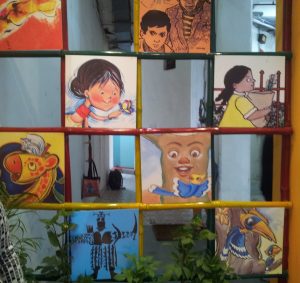 Hello and welcome to my blog.
I am participating in the #writebravely #writetribeproblogger October 2017 challenge. The story I am attempting to write is not about just one 'Asha', but many like her in our society. The trauma and heartbreak her parents go through has been experienced by many more such helpless parents. It is time to put an end to the killing of innocents in the name of tradition, culture and societal norms. Today's post is part two of the story.
Part Two             #2 – Friday, October 6 NOSTALGIC

 "Uma Aunty! Aunty! Come quick"
"What happened? Why are you yelling so much, Raja?"
"Aunty, Asha fell off her bike and hurt her leg."
Asha's mother ran outside to see what Raja, the neighbor's 5 year old, was talking about.
She saw the pink cycle fallen on the ground with its wheels spinning in the breeze. Asha sat crying by the side of the road holding on to her leg. Asha's mother, Uma Sharma, knelt in front of her crying baby and tried to pry her hands off the injured leg to see the damage.
"Mumma, it hurts. Please make it stop."
"I know, baby. Mumma will make it all alright. I will never let anything hurt you, I promise."
****************************************************************************************
Mr and Mrs Sharma sit silently in front of their daughter's picture; a heavy garland of yellow marigolds framing her smiling face. Asha, the name means hope. They had taken their 3 months old baby to the doctor for a persistent cough. The pediatrician had examined her and prescribed some medicines for her.
"What is your little angel's name?"
"We are still searching for a nice name for her. Until then we make do with baby."
"You people should be punished. Every child needs to have a name; it is her/his identity. How can you not find one name out of thousands? I will see you after a week and this baby better have a proper name by then."
The doctor's anger had them frantically reaching for the book of baby names. They had pondered over the book for days before mutually agreeing on the beautiful name, Asha.
***************************************************************************************
It felt like only yesterday they had sent their daughter away to her new home with her husband.
"Mummy, I don't think these people can be trusted; their demands are never-ending. What if they continue asking for more money and gifts after marriage?"
"Asha, let us worry about that. Giving gifts to daughters during marriage is normal. Everybody gives their daughters things for her new house at the time of her wedding. It is the parents' wish."
"But Mumma, what about their demands? They are asking for a car and a 3-door refrigerator, among other things. You should give what you want and only how much you can afford , not fulfill their wishes."
"Asha, we are your parents and know what is best for you. Let papa and me handle everything. Today is your wedding, enjoy your day. I know that you will be very happy in your new home and will have a  long and happy married life. All will be well, I promise…"
I promise…
I am taking part in The Write Tribe Problogger October 2017 Blogging Challenge
By Sulekha Rawat