Welcome to my blog.
This is my fourth time at #AtoZChallenge and my theme this year is Sparky, my 11-year-old Dalmatian.You can read all about my theme here.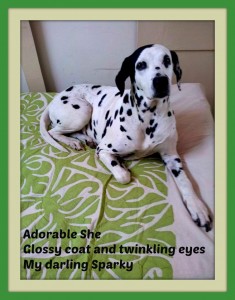 Sparky has always loved Xmas, maybe because she came into our lives during this time. She was born on 7 November 2003 but we brought her home just before Christmas, so that she could stay with her mother and get the essential nourishment from her milk for at least 6-7 weeks. We have seen little puppies that are separated from their mothers before they are 4 weeks old, they look so sad and undernourished.
My daughter, Shloka, loves Christmas more than anyone else in our house. She insists on getting a tree every year and decorates the tree lovingly, she ropes in all of us in this activity, bless her sweet heart.
This year was special as my son, Kartik, was going far away from Delhi for two years to study Business Management, and this was the last Christmas we were all going to be together. Sparky's failing health also was a concern, so we made a celebration out of decorating the tree.
Here are some of the pictures we took during decorating the tree and a few of Sparky with her new toy, ordered from flipkart by Shloka Didi 🙂
By Sulekha Rawat
Check out some other Bloggers participating in the challenge: AtoZ List 2015
And the Blog-A-Rhythm AtoZ posts featuring many prolific bloggers.