Welcome to my blog.
This is my fourth time at #AtoZChallenge and my theme this year is Sparky, my 11-year-old Dalmatian. You can read all about my theme here.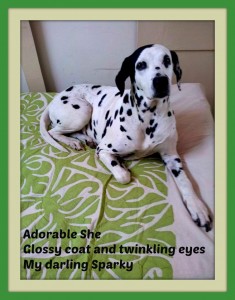 HAIKU FOR SPARKY
You are my precious 
Mine to love and hold always
My guardian angel
All my smiles and all my tears
You and me are one
By Sulekha Rawat
Check out some other Bloggers participating in the challenge: AtoZ List 2015
And the Blog-A-Rhythm AtoZ posts featuring many prolific bloggers.