Welcome to my blog.
This is my fourth time at #AtoZChallenge and my theme this year is Sparky, my 11-year-old Dalmatian. You can read all about my theme here.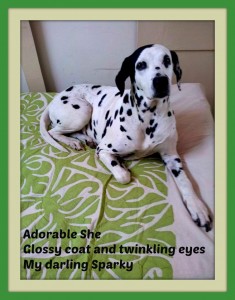 HAIKU FOR SPARKY
Veil of cheerfulness
Covers the pain and sorrow
My brave Sparky smiles
Very special She
My darling angel Sparky
Don't ever leave me
Visage full of joy
Shields from us hurting insides
True warrior she.
By Sulekha Rawat
Check out some other Bloggers participating in the challenge: AtoZ List 2015
And the Blog-A-Rhythm AtoZ post featuring my post 'VACANT' 🙂
"Some days I think of a million things I could write about in my blog, but when I sit in front of my computer screen, I have nothing to say. My mind goes blank, vacant. I feel like a fraud, an imposter in a writer's body. Aren't writers supposed to be full of new and interesting ideas, ready to write up a storm at the drop of an ink drop from their eloquent pens?
Writing is easy: All you do is sit staring at a blank sheet of paper until drops of blood form on your forehead. ~Gene Fowler"… contd