Welcome to my blog.
This is my fourth time at #AtoZChallenge and my theme this year is Sparky, my 11-year-old Dalmatian. You can read all about my theme here.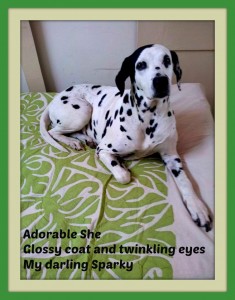 Unconditional Love
Unconditional adoration showered on our hearts
Unstinting affection poured on our souls
Unmistakably we are her Moon and stars
Unquestionably she is our Universe.
Unhesitatingly she follows us everywhere
Uninhibited joy in every step
Unconcealed are her feelings for us
Unaltered her generous love
Unbridled her enthusiasm
Unrestrained her welcome dash
Unmasked her bark, happy
Unconditional love, thy name is Sparky.
By Sulekha Rawat
Check out some other Bloggers participating in the challenge: AtoZ List 2015
And the Blog-A-Rhythm AtoZ posts featuring many prolific bloggers.