WORLD COMPLIMENT DAY
Every year, March 1, is celebrated as World Compliment Day.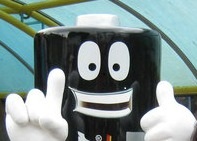 Today's prompt from Write Tribe –
What is the best compliment you've received so far?
 "You are an inspiration to all of us. Pledging our organs is the best gift we can give to others, I admire you."- Kartik
This is the best compliment I ever received, and that too from my beloved son, Kartik. He said this to me after reading my article on Organ Donation.
 The other compliment I remember clearly is by author, Rohit Gore. I had reviewed his book, The Guardian Angels. And since it was my first book review, imagine my surprise when I read this comment on my review, by the author himself!
To quote him – "Before you groan 'not another review', I just wanted to say that this one by Sulekha Rawat is one of the loveliest and the most heartwarming reviews THE GUARDIAN ANGELS has got. 
I know I have said this a million times, but I am overwhelmed and I will be eternally thankful to so many reviewers who, much to my relief have never panned it, have championed this novel and cared to give it space on their blogs."` Rohit Gore 
Let us go and give compliments to at least five people today, or everyday, starting today 🙂
Thank you for reading my article, You are wonderful.
By Sulekha Rawat