Book Review – The Guardian Angels by Rohit Gore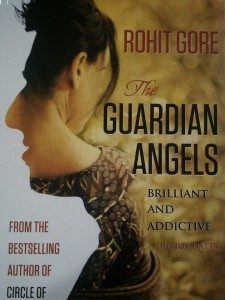 Title: The Guardian Angels
Author: Rohit Gore
Publisher: Grapevine India
Publication: 2013
What happens when you meet your other half early in life and form an unbreakable emotional bond, which strengthens despite the differences in your financial status, ideologies and emotional makeup? What turns does life take and how do you deal with the ups and downs along the way?
The story begins with little Radha Deodhar saving Adi Mehta from getting clobbered by the Triplehead; the three 15-year old boys, in the school's backyard, a place between the abandoned compound and the school called the Bullyzone. Beating up the rich boy made the triplehead  feel superior to him, at least for those few moments. She isn't so lucky the next day and gets badly beaten up before Adi manages to save her. The loving friendship which develops between the two after these incidents is what makes this book, a delightful and heart-warming read.
The rich boy, poor girl story has been told many times but the author has managed to infuse something special in his story. The narrative is gripping and the emotions portrayed beautifully. The wealthy Mehta family, with their twenty-storeys house with god knows how many staff members working round the clock to make their life easier, are a stark contrast to the simple, middle-class Deodhars.
What happens in the course of nearly two decades after their first encounter is an intriguing tale not to be missed. What career and life choices they make? How they stay emotionally connected and rescue one another.  The title of the book gives a little bit of the secret away but there is a lot to discover and relish, along the way.
Another thing I liked about this book is the ease with which the author has expressed Radha's feelings and thoughts. He has surprised me with his sensitivity and understanding of the female mind and portrayed her innermost thoughts beautifully.
I love reading love stories and really enjoyed reading this book.
This review is a part of Write Tribe Book Review Program
Imagine my surprise when I read this comment on my review, by the author Rohit Gore, himself! To quote him-
"Before you groan 'not another review', I just wanted to say that this one by Sulekha Rawat is one of the loveliest and the most heartwarming reviews THE GUARDIAN ANGELS has got. 
I know I have said this a million times, but I am overwhelmed and I will be eternally thankful to so many reviewers who, much to my relief have never panned it, have championed this novel and cared to give it space on their blogs."` Rohit Gore 
Sulekha Rawat