The Sole Interview #writebravely
7 prompts for 7 days. 
Day 6- An Interview.

Only the Wearer Knows Where the Shoe Pinches
Only the Shoe Knows Where the Wearer Prances 🙂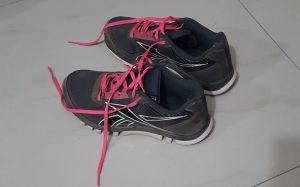 The prompt for today is an interview. I decided to post an interview of my most trusted companions, my walking shoes. They have been with me through thick and thicker 🙂
What can you tell us about yourself?
We two are same in all ways but one. Though we are a pair, one favors the left and the other, right. We believe in looking in one direction while walking, supporting each other, like good friends do.
When did you come in contact with her?
She had come to our shop in the mall with her handsome husband. He was besotted with her and wanted to buy her the entire mall. She had eyes only for me, I was irresistible. She picked up my lefty friend and asked her husband if she could try it on. As if he could say no to her? The salesperson helped her put on my left buddy and lifted me up from the top shelf and put me on her right foot too. We were a perfect fit. We have been inseparable since that day.
Where all have you traveled with her?
We have been to so many places with her. She loves us a lot and prefers our company to her snooty heels and wedges. We go to the park with her daily, she likes to walk fast and we don't complain. Last year we had gone to Toronto, Canada. It was a blissful time. We loved the clean and beautiful roads of Toronto; the Algonquin Park was a picturesque place with orange and red leaves, green trails and clear lakes. We also had the pleasure of seeing the Niagara Falls up close and have the pictures to prove our claim 🙂
Last week we were at the Delhi airport, flying down to Mumbai. We were on our way to Mumbai to celebrate Rakshabandhan with her and her family. She is a brisk walker and we help her in her flights 🙂
What message do you want to give her?
We want to thank her for her considerate and compassionate nature. She has bought a pair of heel cushions to keep her heels and our souls protected too. The heel spurs on her feet trouble her a lot. When she wears us her feet rest on the soft heel cushions and they keep us safe from direct impact.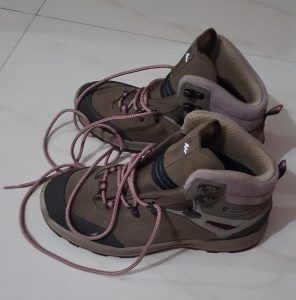 Is there someplace you want to visit in the near future?
We had hoped to visit Leh- Ladakh this month but she has done the unthinkable. She went out and bought our competitors. Things happen for a reason, we needed a break from all the running around in the past few months and this is an ideal opportunity to do just that.
She thinks only she is going on a vacation but we will have a vacation in her absence too. Hopefully the new shoes will become old news by the time she is back from the hills and we can go back to being best friends and sole-soul-mates 🙂
By Sulekha Rawat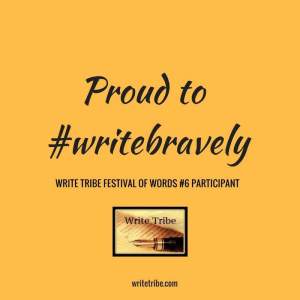 I am taking part in The Write Tribe Festival of Words #6'.