What are we without our memories?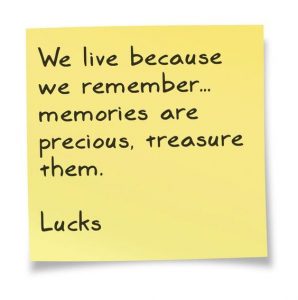 From my Pinterest Board.
This blog is my space for playing with words and arranging them in any which way I please. As long as I am satisfied with my attempts at storytelling with pictures and words, I am at peace. Here I write about the journey of my life; thoughts, feelings, experiences, short stories, poetry, and my best friends – books.
The tagline echoes my sentiments about memories being the most important treasure in my life.
We live because we remember. Memories are precious, treasure them.
My treasure is the bottomless trunk of memories I have in my heart. These priceless nuggets of bitter sweet moments give me strength to move on in life. Some days my eyes well up thinking about my loved ones who have gone away to another realm but then I remember the love and affection they showered on me while they were with me in their physical forms. This gives me comfort and the will to continue on my journey, collecting blessings and good wishes of all those I come in contact with along the way. The love of my family keeps me strong .The friends I've made and the ones I am yet to meet also add to my treasure and will continue adding value and joy to my life.
There are endless moments in my treasure chest to keep me company. One of them is this post I'd written a long time ago. Lingering Scent is a treasured memory whose fragrance continues to linger in my soul.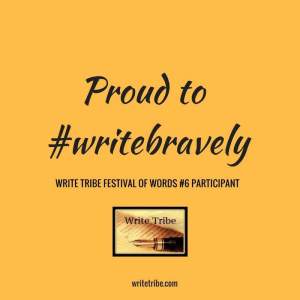 'I am taking part in The Write Tribe Festival of Words #6'.
7 prompts for 7 days. 
Day 1 (5 Aug/Sat) – Write about a treasure you have –
Sulekha Rawat