This slideshow requires JavaScript.
Book Title :The Womb of Brahma
Author : Dr Mithin Aachi
Publisher: Darpan – An imprint of Prism Books Pvt Ltd (2016)
ISBN-10: 8172869738
ISBN-13: 978-8172869731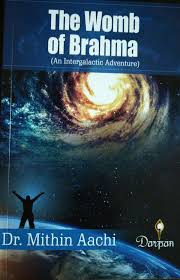 This book is a mesmerizing journey into space and back with many precarious twists and turns along the way. It comprises of an amalgamation of facts from Indian mythology, astrophysics, history, philosophy, spirituality and nuggets of information from many fields of life.
We had the pleasure of meeting Dr Mithin Aachi and his lovely wife last month. They came as our guests and left as dear friends. Dr Mithin is a charming mix of humility and modesty with a strong belief in the divine. He is an Orthopaedic surgeon by profession, and also a star-gazer, painter and writer.
Dr. Mithin is the author of the fascinating book, The Womb of Brahma. It is an intergalactic adventure originating in Kolkata. Naren and Anuradha are the two young protagonists who are studying to become astrophysicists in a college in Kolkata. They meet, talk and go into space to find the center of the Universe. 🙂 I make it sound too easy, but in reality there are n number of steps in between their first meeting and their going into space in search of the womb of Brahma. They are helped and guided by some very interesting and enigmatic people. The places they visit are equally mystifying.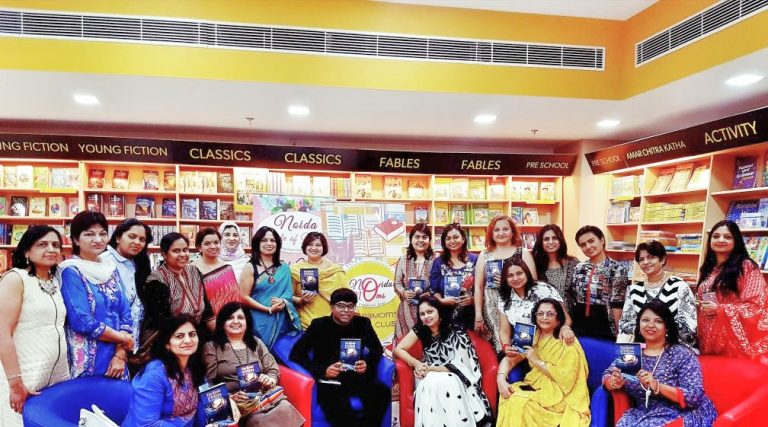 The author attributes his talent and success to the divine power. He believes that the knowledge comes to him as a gift from the almighty and he is fortunate enough to be the recipient of the same. It is this humility and lack of pretension that makes Dr. Mithin a wonderful human being to interact with. His knowledge of the Hindu mythology and astronomy makes him an informative and interesting speaker, one we could listen to for hours.
On 20th April 2017, we had the privilege of inviting Dr. Mithin to our book-club's meet at the Crossword bookstore, Gardens Galleria in Noida. Mr. Vedprakash of Crossword store was kind enough to offer us the space for our meet. His staff did a fabulous job of creating a cozy corner for us and looked after us well. We are grateful to the entire team of Crossword and look forward to more such collaborations.
NM's book club members were excited at the prospect of meeting and interacting with the author of the Womb of Brahma. Dr. Neha introduced this book to the club members and also contacted the author for our book meet. He and his wife flew in from Hyderabad for our meet organized by the members of our book club.
Preparations for the meet started well in advance, with a few of us deciding to visit the mall to check out the venue and refreshments for the meet. We converged at Chayos to chalk up the itinerary for the meet. Friends who eat together, work together well. 🙂 We made notes, assigned duties to the moderators and those giving the welcome address and vote of thanks. Adrak chai and Matar kulcha made our jobs deliciously interesting. 🙂
We had a lot of questions for Dr. Mithin but we waited patiently while a bouquet was presented to him by Shruti and Shavi.Thereafter, Neha introduced the author to the book club. Neelam set the ball rolling with an opening question and then handed over the reins to yours truly. Once the floodgates were opened, there was no stopping our members. There were questions and queries from Diksha, Rachna, Bharti, Mona, Anjali, Parul, Neha, Deepika and Anamika. To give the author credit, he didn't flinch once, even when we asked him questions out of syllabus; about karma, afterlife and reincarnation. 🙂
Dr. Mithin signed books for the book club members, posed for pictures and promised to come to Noida again in December with his new book. The Womb of Brahma is the first book in the trilogy, and the second book will be launched in December 2017.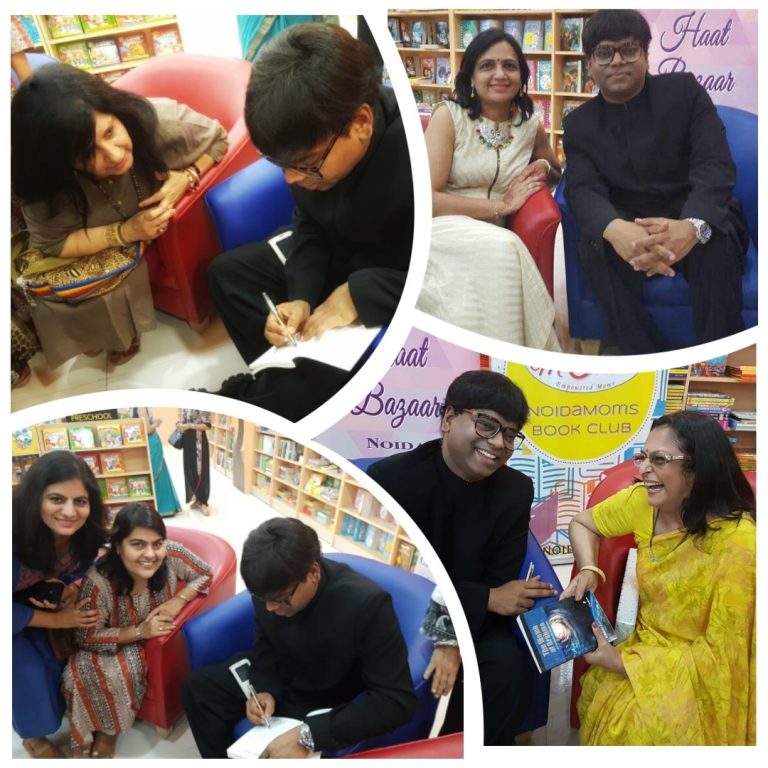 We wish Dr. Mithin loads of success for his upcoming books and hope to have another animated discussion with him during his next trip here. The fate of Anu and Naren hangs in the balance; and we want to know what happens next.:)
By Sulekha Rawat