Book Review
Title – Love has its Various Ways
Author – Divya Kapoor
Publisher – Balboa Press (A division of Hay house)
ISBN: 978-1-5043-6017-3 (sc)
ISBN: 978-1-5043-6018-0 (e)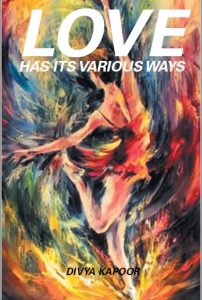 About the Author
Divya Kapoor is a traveler, journalist, teacher, translator, life coach and a tarot reader. Kapoor was studying mass communications during her first year when she started learning tarot and reiki. Kapoor believes life can be termed as "mystery" and everyone has a purpose in this world to unravel it. Kapoor's inclination toward the mystical began when she discovered an inborn gift of insight and healing as well as a talent for signature reading — she also practices emotional freedom technique (EFT). Kapoor is pursuing her master's in travel journalism and has a passion to explore new places and gain insights.
Book Review-
The year 2017 started on a dreamy note for me. I joined the Goodreads reading challenge and set a target of 36 books for this year, have already read 17 :).  At any given time, there are at least four books on my bedside table; I have a system in place :). This month, the mornings are reserved for 'Inner Engineering' by Sadhguru, afternoons find me chuckling  while reading the book by Gerald Durrell, ' My Family and Other Animals. In the evenings I am engrossed in reading Writersmelon's Jukebox, a brilliant collection of short stories by budding writers in India. Bedtime reading is lots of fun with ' Candy is Dandy', The best of Ogden Nash.
I love holding the books in my hands and feeling their energy. I turn the pages and hold my breath to encounter the magic of the writers' words. The smell of books makes me want to live in their folds. Sometimes I like to experiment and read eBooks to stay abreast of the technological advances and to keep up with the new fads :). I am old school, and at 53 it's difficult to change my spots :). When I was presented with the opportunity to read the eBook, Love has its various ways, I stepped up.
The title, 'Love has its various ways', had me thinking it would be a love story, but I was way off-base. It is a story of self discovery, self discipline and personal transformation. The book covers various topics like- God, Letting Go, Taking risks, Life's purpose, Miracles…
"Life is a journey of zillion steps, takes-off with one! I believe that the way we travel across numerous places and tend to pick-up something good and a few peculiarities of each place; we do the same with life. It is a travel of our soul. For some, it's a journey from the known to unknown and for others it begins from the unknown." – Divya Kapoor
There is an African proverb; it takes a village to raise a child. It is applicable to the creation of this book too. 'It took a village to create this book.' The author, Divya Kapoor, has mentioned her family, particularly her elder brother, and her close friends for supporting, encouraging and cheering her on during the making of this book. I loved the fact that she mentioned her dog, Whiskey, who taught her to love unconditionally. I too had my ardent fan in Sparky, my baby Dalmatian. She is free of her troubles at last and sits waiting for me at the Rainbow Bridge. Since this book was destined to come out without a hitch, the finances and the publisher, according to Divya, materialized quite mystically. The powers of visualization were at work here, along with the author's keen desire to pen down her story and share her learning with the world.
Divya decided to write this book for all those who want to become their own life coach. The simplicity and sincerity of her words made it an enjoyable read. The pages are filled with positivity and guidance on how to reach that state. The many quotes in this book bring out the writer's thoughts aptly and are a welcome accompaniment to her story. The one about miracles stayed with me.
"There are only two ways to live your life. One is as though nothing is a miracle. The other is as though everything is a miracle." – Albert Einstein
The author talks about recognizing patterns and dealing with them. She says, 'what you see in others is what is inside you.' I believe healing begins with total acceptance of self first. You are responsible for your happiness; make a choice to be fearlessly positive.
Another sentence that stood out was, 'It takes a lot of courage to accept your darkness, all those things you loathe in the people around you is what has always existed in you.'
The book comprises of eleven chapters and a workbook at the end. The workbook is to practice new learning with the help of meditation and affirmations. It helps in goal setting and achieving.
I wish Divya best of luck and look forward to reading a lot more of her books filled with positivity and inspiration. With this book she has started her journey into writing and I would love to see her scale new heights.
By Sulekha Rawat