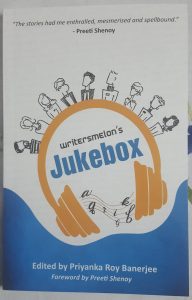 Book Title – Writersmelon's Jukebox
Author – Various Authors
Publisher – Kurious Kind Media  Pvt. Ltd.
ISBN – 978-93-858543-3-0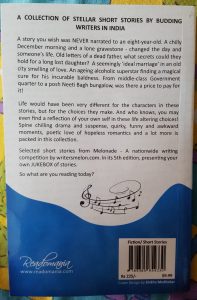 Book Review-
Where is human nature so weak as in the bookstore?
–Henry Ward Beecher
There was a time when I could not be trusted with a credit card in a bookstore :). A visit to the mall always ended up with me spending big chunks of time and money on browsing through, and buying, lots and lots of books. Now I can't be trusted with a credit card and a fast internet connection anywhere. Ordering books online is my favorite thing to do. When I heard about Jukebox, a book by Writersmelon( collection of short stories ), I had to place my order right away. 🙂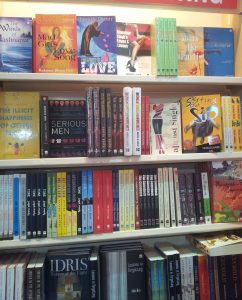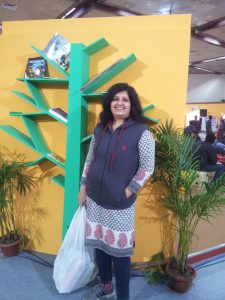 Jukebox is a feast for the mind, an elaborate banquet of stories laid out tantalizingly for the readers to enjoy. The writers have come together to pool in their creativity to create this anthology. This book is one fine album with fifteen melodious songs. The eclectic mix of budding and established writers has contributed to this anthology. It has stories under three subheadings- Spine chilling drama and suspense, Quirky, funny and awkward moments and Poetic love of hopeless romantics. Although I enjoyed reading all the stories, the spine chilling drama and suspense lot are my favorite kind. Each story left me wondering about the protagonists and the choices they made or were forced to make due to their circumstances.
While reading the book I was pulled into the pages and found myself within the stories- a mute spectator, helpless to console a sobbing child or a battered wife. I wanted to put out my hand to stop the little girl from walking into the creep's house, reprimand the wife beater, run away from the graveyard. I tried to comprehend the twisted logic of poor, unfortunate Mrs. Neeta who lived in Neeti Bagh, by getting into her head.
A few stories warrant a special mention in my review, the first one is aptly titled, Story. A story within a bedtime story makes one lose sleep :). Abhishek Mukherjee manages to weave suspense and drama into a bedtime story a mother tells her eight year old son on his birthday. One moment it is a simple tale but the next it evolves into a mystery. The little boy's logic rivals Sherlock Holmes' and his mother is left exasperated with his endless questions and reasoning.
One day in December by Deboshree bhattacharjee, is an eerie read, in a good way. The living is taught a lesson from the grave. The line between fiction and reality is a thin one for Veena in this exceptional tale. "She decided to check who the lucky corpse belonged to. After all, it wasn't everyone's fortune to be tended to during a lifetime, let alone after it."- Deboshree
I loved the opening line in the story, Monster, a disclaimer by the author. The writer in me chuckled on reading it J
"Regardless of what writers tell you, characters are never fictional."- Amritorupa Kanjilal.
Kuhu tries to come to terms with her parents' separation and also the fact that one of them is a Monster. Not an actual one, of course :). Kids are the main casualty of a broken marriage, confused, with divided loyalties. What happens to Kuhu when she grows up? Does she meet the monster again?
The Sinner, by Kakoli Mukherjee, is another splendid tale. The story of an abusive relationship and the psychological damage it causes to a tender mind is aptly depicted in The Sinner. Who was the real sinner here? Was there more than one? Why wasn't anyone there to help the innocent one?
"Each piece of happiness comes to me in a strictly rationed system, where a tough taskmaster ensures that I do not have too many happy days at a stretch."- Kakoli Mukherjee
"A collection of stellar short stories by budding writers in India." – Writersmelon. It is indeed a fine collection. Writing is hard work, good writing even more so. I am glad I read this book and wish them all the very best, happy writing.
By
Sulekha Rawat