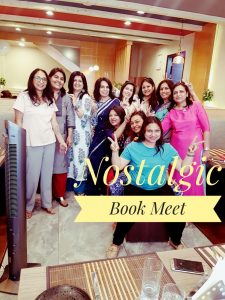 Hello and welcome to our 'Nostalgic Book Meet'. I was the friendly moderator for the event who made sure the readers discussed their chosen books within the allotted time of five minutes each. The book-lovers attending this epic book meet had a lot to say about their favorite books and shared their views eloquently.
NOSTALGIA –'a sentimental longing or wistful affection for a period in the past'.
When I heard about our theme for the book meet this month, I was thrilled. For me, nostalgia is all about the carefree, happy childhood I spent in my hometown, Bombay( now Mumbai :)). I remember our school vacations spent with my dadiji, dad's mother, in her village near Ambala. She was a formidable lady with a razor sharp tongue. I take after her in many ways :),  I am told.
The things I remember about her are –
Her 'Joie DE Vivre' – She laughed in the face of adversity and danced even when there wasn't any music. Nothing fazed her. Her passion for life was commendable and her fearless demeanor an inspiration.
Her sense of humor was epic, comic timing spot on.
She said what she felt- no holds barred. It was WYSIWYG with her. I am a chip off the old block.
Her taste for the dark rum in a stainless steel glass. Her dance moves with both arms up in the air and the arrhythmic swaying of her torso in any direction it felt like.
She was self sufficient till the end of her life, cooked her own meals, washed her own clothes, lived alone in a big house in the village because the city life made her feel caged. She visited us in Bombay often but yearned to go back to her roots in the heartland of Haryana.
Her generous nature- She suffered a mishap and broke her hipbone a year before she passed away. I remember driving down to the village with my brothers to visit her. She was so happy to see us all there by her bedside. She called me in and instructed me to open her trunk. It was like the steel trunk in the movie BAWARCHI, the one Rajesh Khanna had his eye on 🙂
There were salwar suit pieces with dupattas in various colors and materials in the trunk. She told me to take one set for my mother in law, one for my daughter and one for me. When I tried to decline her generous offer she said something so sad that I broke down. She said, "they are of no use to me but if you take them and wear them you might think of your old grandmother with a smile."
I could go on forever with anecdotes from her life but paucity of time dictates that I  proceed with the discussion on my nostalgic book- Pride and Prejudice- by Jane Austen. We met at Club 44 in Noida on 24th March 2017 to go back in time and revive old cherished memories of our favorite books. The owner of this establishment is a pretty lady with a lovely smile, Ashita. She welcomed us and made sure we had a happy book meet at her club. Best wishes to her on her maiden venture and more power to her 🙂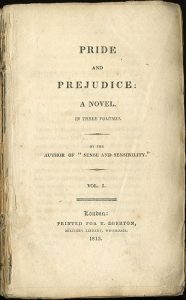 The book PRIDE AND PREJUDICE BY JANE AUSTEN opens with this interesting line.
"It is a truth universally acknowledged, that a single man in possession of a good fortune, must be in want of a wife. .."
OKAY…so that's how people regarded young, successful single men :):)
Pride and Prejudice is a novel by Jane Austen, first published in 1813. The story charts the emotional development of the protagonist, Elizabeth Bennet, who learns the error of making hasty judgements and comes to appreciate the difference between the superficial and the essential. Mr Bennet  has five daughters,(Jane, Elizabeth, Mary, Kitty, and Lydia). The novel revolves around the necessity of marrying for love, not simply for mercenary reasons despite the social pressures to make a good (i.e. wealthy) match…more
When I had first read the book in my teens I had no way of knowing that I would get a Mr Bennet for a husband and he would make fun of my nagging and whining all the time. Though I am not Mrs Bennet all the way but my poor nerves are a source of constant amusement for my hubby 🙂
I love the banter between Mr and Mrs Bennet-
"Mr. Bennet, how can you abuse your own children in such a way? You take delight in vexing me. You have no compassion for my poor nerves."
"You mistake me, my dear. I have a high respect for your nerves. They are my old friends. I have heard you mention them with consideration these last twenty years at least."
Charlotte, Elizabeth's friend, accepts the proposal of the ordinary looking and uninteresting but slightly well-off Mr Collins, after he is rejected by Elizabeth. It made little sense to me when I read it as a young girl who was a romantic through and through. Elizabeth cannot believe her friend and is visibly stunned at her agreeing to a match lacking mutual love. I was shocked too at that time.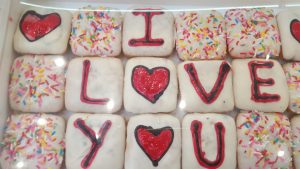 Now when I reread the book I could understand the logic behind Charlotte's decision. The soul mate who is a Mills n Boon hero replica does not always materialize in real life to sweep you off your feet. Sometimes he gently tiptoes into your heart with his engaging smile and handsome heart. Tall Dark and Handsome is a cliché' it is more important to be Tender Loving and caring.
With age comes maturity 🙂 Things aren't always black and white but can be an interesting shade of grey too. Every book has so much to offer and the lessons and teachings depend on the frame of mind of the readers at the time of reading it. The age and grasping power matter too. One's perspective changes with time.
The other members of the Noida Moms Book Club at the meet had equally sweet and even tenderer reminiscences to share. The Nostalgic book titles are an eclectic mix of stories that are heart touching and thought provoking.
Neha – Tuesdays with Morrie
Charu – Black Beauty
Rachna – Annie
Mona – Oliver Twist
Manee – Coma
Anamika – Ramcharitamanas
Shruti – Who Moved my Cheese
Parul – Diary of Anne Frank
Anjali – 14 Phere by Shivani
Shavi – Linda Goodman's Sun Signs
Sulekha – Pride and Prejudice
I loved this trip down memory lane, what about you?
By Sulekha Rawat