Book  – Open- eyed Meditations
Author – Shubha Vilas
Book Review-
'Open-eyed Meditations is a collection of thoughts about various aspects of life that is purely inspired by observing the world through the lenses of Vedic epics.'- ShubhaVilas
This is a book of lessons for LIFE MANAGEMENT. It's divided into 64 interesting and informative chapters with a summary at the end of each chapter. The author talks about our everyday problems and offers solutions with examples from the tales of Mahabharata and Ramayana.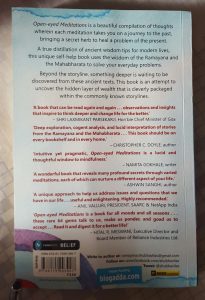 Ever since I remember, my mornings used to begin listening to tales of Lord Rama, Sita and Hanuman. My mother is an ardent devotee and reads the Ramayana for a couple of hours daily. Every morning we woke up to her singing the doha or chaupai from this epic tale. I was a mythological genius in school at a very young age, thanks to my mother. 🙂 I knew about Kevat, and his boat and how he feared his boat would turn into a woman by Lord Rama's touch (like a stone he had touched his foot to had transformed into Ahilya.) Kevat insisted on washing Rama's feet before letting him get on his boat just so he could get the lord's blessings. There were many such interesting stories we heard, growing up.
After reading Open-eyed Meditations, I realized there were gaping holes in my knowledge. As kids we were more interested in movies and reel life heroes. Another contributing factor to wards my ignorance is the short attention span I was blessed with as a kid. 🙂
In this book the author has unearthed a lot of gems from the ancient epics and has explained the journey of life with examples from these inspirational books. The combination of logic, storytelling and practical solutions to our everyday challenges makes this a must-read book. The summary of each lesson is a quick-fix for those who lack the time and inclination to read the chapters, though they may be missing out by not reading the book from cover to cover.
Open-eyed Meditations is a rich tapestry of stories from Mahabharata and Ramayana, coupled with life management lessons. The amalgamation of past and present is the formula for a beautiful and fulfilling future. I have highlighted many parts in the book and will be going back to them as and when the need arises.
A chapter that came to my rescue during trying times was, 'Can I hurt others without getting hurt?'  He says, 'Perhaps the toughest human emotion to deal with is the feeling of being hurt. That feeling only escalates when the one who hurts you is also the one you love the most.' This book couldn't have come at a more appropriate time in my life.
I have a huge collection of books and am happiest in their midst. Some of the books on my bookshelves never get dusty, though their pages are worn and almost threadbare. These are my go-to books. Every once in a while there comes a book which belongs to this group and Open-eyed Meditations is the latest one to be added to my often visited shelf.
Books are the quietest and most constant of friends; they are the most accessible and wisest of counselors, and the most patient of teachers. ~Charles W. Eliot
By Sulekha Rawat
This review is a part of the biggest Book Review Program for Indian Bloggers. Participate now to get free books!