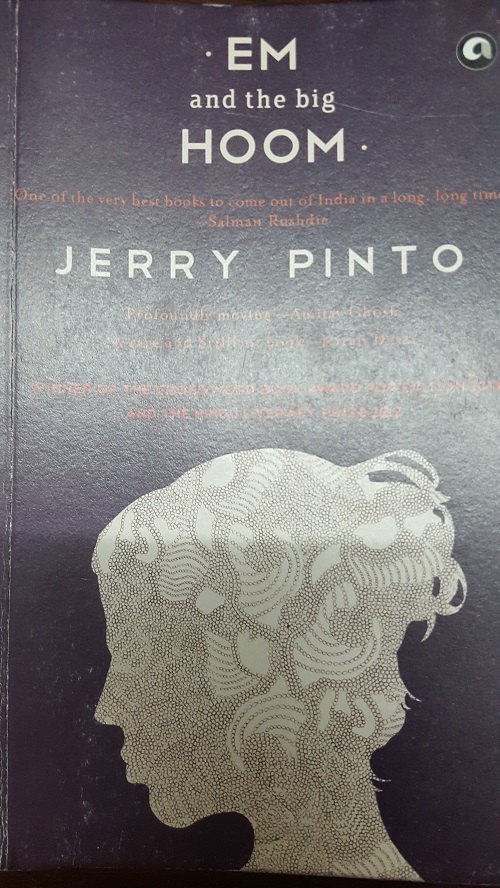 Book Title: EM and the big HOOM
Author     : Jerry Pinto
Publisher: Aleph Book Company
Language: English
ISBN         : 978-93-82277-31-6
BOOK REVIEW:
A few pages into Jerry Pinto's, Em and the Big Hoom, a tap opened inside of my soul. The dripping jet black liquid was similar to the one flowing from the faucet of Em's disturbed and fragmented mind. The imagery this book evoked in my head turned me into an insomniac for a few days. Whenever I did manage a few winks, the silent screams of Em's children jolted me awake. They watched Imelda Mendes turn into Em, feeling helpless to stop the transformation but willing to take care of their dear Em. The big Hoom was like an immobile steel wall constructed in their one bedroom house in Mumbai, existing for the sole purpose of keeping the roof from falling on his family members' fragile and mangled lives.
It is not often that you pick up a book to read a story but end up inhabiting the protagonist's life to such an extent that his struggles, confusion and pain become yours too. It is sheer torture to see your parent being reduced to a helpless state and when you have to take on the added responsibility of safeguarding her life, you age overnight. Children are resilient and can take on heavier burdens on their thin shoulders in their family's hour of need. It is a different matter altogether that their sweet innocence is lost in the gushing of their mother's blood on the bathroom floor and in the scattered pages of her stories soaked crimson on normal days and the blackest of blacks on heartbreaking days.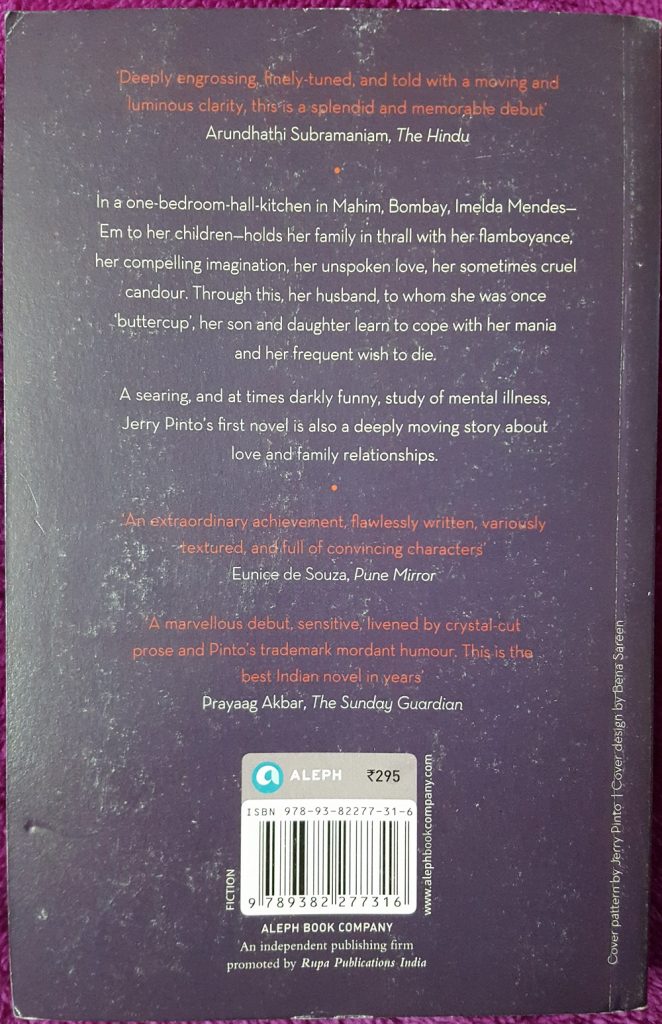 Big Hoom is a silent force in the book, his agony and heartbreak reaches out of the folds of the book effortlessly to capture the readers' hearts. Just like we don't see the air but feel it, big Hoom tells his story in silence and makes us sit up and listen. I loved this brilliantly written masterpiece by Jerry Pinto, the many layers of emotions interwoven in the pages of his book tugged at my heartstrings. He doesn't go overboard with theatrics even though the subject matter allows for it. He makes light of tough situations and injects humor in the narrative to cushion the blow for his readers. There were moments in the story that had me smiling at EM's brand of dark humor but also had me reaching a tentative hand to my heart to still its erratic beating.
A family comprises of people who love and support each other through thick and thin. When one member falls apart the rest of them gather up the broken pieces and try to put them together again. They take turns keeping vigil and each one hands over the charge to the other before relinquishing his/her post. She is EM, their beloved mother and big Hoom's wife. EM is unpredictable and unreliable due to her mental illness. The struggle and the hardships her family faces to keep her amidst them are both heartening and heartrending.
Why do some of us come undone in life?
Were the seeds of disquiet sown during her childhood?
How does one turn the faucet off and stem the flow?
When and why does a mother become an EM?
By Sulekha Rawat