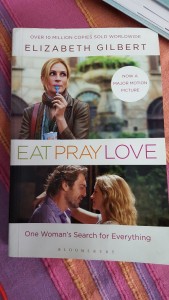 Book Title – Eat Pray Love
Author –       Elizabeth Gilbert
Publisher –  Bloomsbury
Book review – Eat Pray Love by Elizabeth Gilbert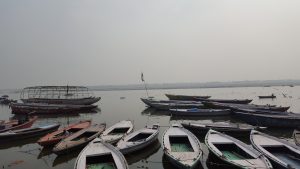 It is being touted as 'One woman's search for everything.' Eat Pray Love is the story of the writer's journey to self discovery and inner peace, her tale of three cities and her experiences there. What an amazing trip she was on!
I would love to go on this kind of adventurous vacation for an entire year, not to recover from heartbreak or get over a divorce but just to live free of any and every responsibility. The bohemian in me applauds Elizabeth for her courage and drive but the practical, logical Capricorn in me is shaking her head in denial and disapproval at this outrageous and impractical act of hers. As far as autobiographies go, this one is for the rich and the famous, as not every hurt and divorced woman can afford to be so self-indulgent.
Having said that let me tell you what I loved about this incredible tale and the core of this book, or at least what I thought was the essence of Eat Pray Love. We learn new things everyday not only from educationists and institutions but from common people we encounter in life. This learning process is fun and interesting unlike the tedious and boring lectures of our school and college lives.
I liked the way she started her story by mentioning the string of beads (Japa malas), the kind used for meditation in India by Hindus and Buddhists, the 108 beads in the malas and the numerological meaning of number 9, the number for supreme balance. She further divided her story into three parts, Italy, India and Bali, 36 chapters each in every city. She herself was 36 years old at the time and trying to find balance in her life while writing this book, so this added a nice touch to her storytelling. The three parts are- Pursuit of Pleasure, Pursuit of Devotion  and Pursuit of Balance.
When life lands a no-hold barred blow on your trusting and unprotected face, you do fall down hard but then you muster up all your strength and stagger back to your feet. You hold on to any tiny glimmer of hope that manages to get you out of the darkness, inch by inch. It could be a little inconsequential thing like tending to plants or learning to paint, it's what I did after I lost my pet Dalmatian to renal failure. Liz started learning Italian, she felt good after a long time, and as she aptly puts it, it was in New York, reading Italian words aloud from a dictionary, that I first started mending my soul.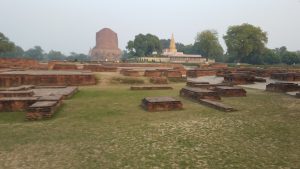 I was in Varanasi (Banaras) a couple of days back, and missed the book club anniversary meet at our Noida Moms book club. Eat Pray Love, was the book of the month and I had much to discuss with my club members but couldn't. I was glad to know that they had a great meet with lively discussions and interesting observations.
While waiting for my flight to take off from Varanasi airport, I wandered into the book shop near the baggage screening point and bought the book, Tales of Banaras, The flowing Ganges…translated from the original Hindi of Rudra Kashikey, pen name of Shv Prasad Mishra, by Paul R.Golding with Virentra Singh. Interestingly, here Paul talks about how the river Ganges, which normally flows southeastward, abruptly turns north before it reaches Banaras, creating a north-south barrier in the middle of the Ganges basin. This contributed to Banaras' reputation as a tirtha, which on the one hand literally means a crossing, but on the other, figuratively, means a place where one's spirit may cross into another reality ( that is to say, a sacred place). Liz mentions the very lyrical word, Attraversiamo, this in Italian language means crossing over.
I met a young Italian girl in the hotel's elevator at Banaras recently and tried my newly acquired knowledge of Italian on her. I told her my most favourite word in her language was Attraversiamo, and she was impressed, or at Least I hope she was. It means, let's cross over. In Banaras, my soul crossed over from being an idle observer to an ecstatic participant in the evening Ganges Arti at the famous ghats of the holy river. So many interpretations of this one word!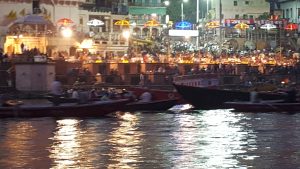 Elizabeth's stay in Italy made me look up some words in the Italian language, apart from the ones she has mentioned in her story. I loved her selection of words and phrases too. Bel far niente, is also another favorite term of mine. The beauty of doing nothing, I like the idea of enjoying life without feeling guilty about it. L'arte  d'arrangiarsi, the art of making something out of nothing.
Her insightful thoughts about the Augusteum also made me sit up straight and nod my head in agreement, they also moved me intensely and gave me goosebumps. Liz's inner dialogue, in brief-"To me, the Augusteum is like a person who has led a totally crazy life- yet who has managed to hold an intact sense of herself throughout every upheaval."
Another brilliant word that I found in this book and managed to scoop up with outstretched hands and a gleeful smile was Codega- a fellow who is hired to walk in front of you at night with a lit lantern. (In Venice in the Middle ages there was once a profession for a man called a codega). It must have been reassuring to them to have a codega protecting them in those days. I too would love one of my own (not hired, but a genuine companion) to light up my dark path and show me the obstacles on my way, help me overcome them too. I guess we all do have our own codegas in our lives but we address them by different names, soulmate, partner, best friend, a favorite teacher, a special family member, or the people we accidently meet on this journey called life.
The moment her plane touched down in India, I was home too. Om namah Shivaya, I honor the divinity that resides within me. I am not proud to admit that I was ignorant of many a terms in hindi and Sanskrit Liz picked up and adopted at the ashram in India. Her stay at the meditation camp or her Indian  guru's ashram was an eye opener for me as well. She mentions Turiya, 4th level of human consciousness, what a place to be in! The Gurugita, here the godess is asking the god for the secrets of wordly fulfilment, and he is telling her. The other interesting words were- Kundalini Shakti, the supreme energy of the divine. I have a lot in common with Liz, as is evident from her choice of favorite words in Italian and Hindi/Sanskrit languages. She chose the Sanskrit word, Antevasin, as hers to keep. 'Antevasin means 'one who lives at the border'. She/he is a border-dweller who lived in sight of both worlds, but looked towards the unknown.' I loved her conversations with Richard from Texas, and his nickname for her, Groceries.
The third leg of her journey of self-discovery was equally intriguing and appealing to me.  The medicine man in Bali, Ketut, was as endearing as his name and physical description; his age is another matter, altogether. I liked his idea of meditation, he tells Liz, 'To meditate; only you must smile. Smile with face, smile with mind, and good energy will come to you and clean away dirty energy'. Another interesting meditation he teaches her is the 'Four Brothers Meditation', I'd never heard of anything so beautiful and profound. Finally, the meditation that takes him "to up" and "to down", I plan to practise all these methods and see how I feel afterwards.
Liz met a bunch of other colourful characters during her stay at Bali, starting with Nyomo, Ketut's wife, Yudhi, the caretaker of the house she rented in Bali, Mario, her Italian-Indonesian friend, Wayan, the strikingly attractive Balinese healer and her little daughter Tutti, The dynamic Armenia, and finally Felipe, her almost perfect and handsome 'darling' Brazilian.
You can take this book any which way you deem fit; I have shared my interpretation of Elizabeth's quest for self-discovery and her journey through three very different and vibrant countries. It was the stuff dreams are made of but do her dreams come true in the end or does she go looking for the meaning of life in a few other equally breathtaking locales? Does Liz find balance in her life? You have to read Eat Pray Love to find out…happy reading.
By Sulekha Rawat