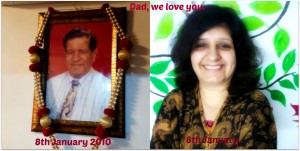 Memories linger
Snapshots of moments in time
I remember you.
He is my hero
Sentiments of a daughter
My dad is the best.
Time passes us by
Takes away our loved ones
Alone we stand.
Your empty chair sits
So forlorn and bereft
My searching eyes cry.
Every day I pray
To keep you out of harm's way
Souls can be hurt too.
I look up and see
My shining star in the sky
The darkness dispels.
By Sulekha Rawat