Book Title :All Aboard
Author :Kiran Manral
Publisher : Penguin Books India
About The Book-
When Rhea Khanna is dumped by her boyfriend of four years just days before her marriage, the only thing she wants to do is to get out of the city to clear her head. The opportunity presents itself immediately when her aunt, a retired school headmistress, invites her aboard a Mediterranean cruise. As Rhea struggles to cope with her grief of being dumped at the altar, she finds herself getting attracted to the seemingly involved Kamal Shahani – the infuriatingly attractive ex-student of her aunt and a hot shot entrepreneur. To add to the confusion, Sonia, Kamal's very attractive ex-girlfriend boards the ship in a bid to win him back.
Will Rhea heal her broken heart, or will she end up even more shattered than she was when she got on this cruise?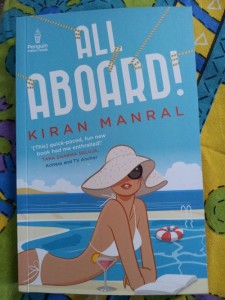 Book Review
After reading Kiran's book many of us might end up envying Rhea instead of sympathizing with her over her break up just days before her marriage; mainly because after getting dumped she gets to accompany her lovely aunt, Rina Masi on a Mediterranean cruise and bumps into the dashing Kamal Shahani.
On a serious note, All Aboard is like a breath of fresh air on a hot and humid day in Delhi during the summer. I read the book in 4 hours; began reading it at midnight and carried on till 2 A M before realizing that it was way past my bedtime. I woke up feeling excited, like a kid on the morning of her birthday. I can't remember the last time I read a novel while sipping my bed tea; it is, always, either the newspaper or the very inspiring and motivational book, My True Reality, by Dr Huzan S. Daver.
I kid you not, this book made me lose control and feel naughty, especially while reading the sizzling and scorching massage scene by the pool side. I would have willingly exchanged places with Rhea and conveniently forgotten that I was a happily married, middle-aged woman, almost as old as Rhea's Rina Masi.
Another first for me in this book was my equation with Rina masi. Don't we all love to picture ourselves in the main protagonist's shoes or stilettos? But here I was, going bananas over witty one liners and the flashy fashion sense of the endearing and cuddlesome Rina Masi. Agreed that Rhea was beautiful and had the tall and handsome, not to forget, amazingly caring, Kamal Shahani cast opposite her. I still felt closer to her aunt, and my hero, Rina masi, unmindful of her physical and social makeup.
So here I was, at 6 in the morning, happily devouring the book and smiling like an infatuated teenager, literally drooling over the hot and handsome Kamal. There should be a law against publishing such interesting and juicy stories! The authors penning down such enticing stories should be kept away from their computers. By 8 AM, I was done with the book and didn't know what to do with the rest of my day; the only thoughts racing in my head were should I book a ticket on the first available Mediterranean cruise or should I first check the passenger manifesto and find out the number of hot, single Kamal-clones I would be sharing the floating city with?
There are love stories and there are comic tales, but when these two come together like sun block and fair smooth skin, deep baritone and great looks, passionate kisses and satiated sighs, a one of a kind story is crafted. Kiran is an excellent storyteller with her finger on the pulse of the readers. She reached into the readers' minds and read their thoughts before crafting her immensely entertaining travel romance with a few sinister and unexpected twists and turns. The journey, or should I say, the voyage, was as fulfilling and enjoyable as the destination, and in this case, there were so many ports of call that it left me feeling like I'd been on a mini cruise without moving an inch from my bedroom.
The culmination of my dream would be an invitation for a day cruise or a picnic by the sea with Rhea Khanna , Kamal Shahani, Naina, the adorable kids and my idol, Rina, the Masi . I wouldn't mind if the likes of Sonia, John and Samir Dasani were not invited to this fun party.
I have stopped rating books because every author puts in her hundred percent and pours her heart and soul into her books, so who are we to decide how many stars to give them? Reading the review should be good enough for the readers to come to a decision whether to buy the book or not. And if 600 odd words can't help them make up their minds, a few stars would not be of much use either.
By Sulekha Rawat