Book Review
Title – Miracle (Poetry book)
Author- Aabha Vatsa Midha
Publisher – Authorspress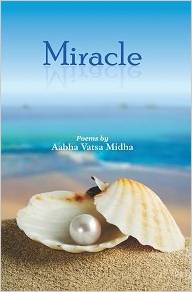 Miracle, by Aabha Vatsa Midha is a great collection of poems that deal with various issues in our everyday lives and society. As the title suggests, this fascinating book is primarily about the marvels of life. The various poems in this book describe emotional attachment between friends, lovers and also humans and God in a very simple and honest way.
The poem, 'Ganga, A cry', highlights the issue of pollution and is a cry for saving the environment and cleaning the revered river Ganga. The social cause is highlighted by means of poetry and Aabha creates awareness about this through her powerful and sensitive words.
Another poem I would like to mention is, 'Against All Odds', women empowerment is depicted in the act of Dahi Handi break during Janamashtami. A male bastion till a few years ago, Dahi handi is witnessing a change in its participants and many women are forming human pyramids to celebrate this festival. The strength of a woman is projected well in this positive poem. She emerges victorious, against all odds.
The first poem, 'Adieu', is an enchanting love poem that ends in tragedy. The pangs of heartache and loneliness, and the agony and ecstasy of love, are reflected beautifully in all the romantic poems. Other poems in this book are about devotion, God, healing, and a few motivational ones as well. 'Doubts' talks about not letting negative thoughts cloud your judgment, having faith in yourself, quieting the inner critic and performing your duties.
The poems flow through the book in a rhythm, starting with melancholy strains and ending on a very bright and positive note with the poem, 'The Game'. I enjoyed reading "Miracle" with its refreshing collection of light and interesting poems. Sharing a few lines from the inspiring poem, 'The Game'-
Now the dreams are back
Radiant and sparkling
Once again I soar high
And higher
My victory
Snug in my heart…
 By Sulekha Rawat