Welcome to my blog.
This is my fourth time at #AtoZChallenge and my theme this year is Sparky, my 11-year-old Dalmatian. You can read all about my theme here.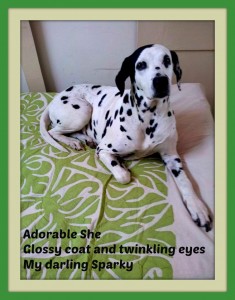 Certain thoughts are prayers. There are moments when, whatever be the attitude of the body, the soul is on its knees. ~Victor Hugo, Les Misérables, 1862
I almost gave up on this writing challenge yesterday, but one glance at my Sparky's lovely face and I was back on track. We got her latest blood report yesterday and the readings shocked us, it is a miracle that she is still walking about, albeit slowly and how she musters up all the energy she has, rushing at the door to welcome us when we arrive. Her blood Urea and Creatinine levels are through the roof along with her Phosphorous level. The vet suggested a diet consisting of egg whites, boiled potatoes, cabbage, beans, and rice, for Sparky. Watermelon is good for her but she hates eating it, maybe she has inherited the dislike of this fruit from me 🙂
We can do all that the vet asks and then sit back and pray, let her not suffer any more pain. Every time I pierce her skin to insert the needle for her daily IV fluids, I hurt more than her. There are videos on the net explaining and demonstrating the procedure of giving our pets the subcutaneous drip. In one of the videos they say it doesn't hurt the animals when the needle is inserted into their skin for the same. But how would we know if it does or doesn't hurt the pets? My Sparky doesn't complain but she looks at me with her big beautiful eyes shining with trust and love, my heart goes through a wringer.
I will continue to ease her physical discomfort as best as I can and for the rest, I will pray with folded hands. May I ask you to include Sparky in your prayers; I am confident that the healing will reach her and give her relief. Thanks in advance…
By Sulekha Rawat
Check out some other Bloggers participating in the challenge: AtoZ List 2015
And the Blog-A-Rhythm AtoZ posts featuring many prolific bloggers