Welcome to my space.
This is my fourth time at #AtoZChallenge and my theme this year is Sparky, my 11-year-old Dalmatian. You can read all about my theme here.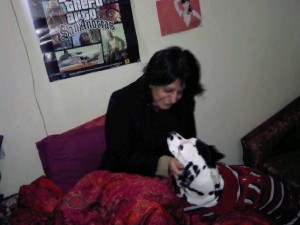 Blogging From A To Z Challenge (April 2015)
The story continues – Darling of the house
My daughter, Shloka, carried Sparky inside the house with Kartik, my son, yelling Me, Me. I just stood in one corner and watched the unparalleled joy on my children's faces. Shloka was in class 10 and Kartik in class 7 but they looked like babies admiring their most precious toy. How could I take this joy away from my children? Couldn't I learn to live with my fear and be the mother they would love to look up to? At that moment nothing else mattered more than keeping that look of happiness and wonder on my kids' faces, my mind was made up but they didn't know it yet.
Just then Sparky looked up at me and her eyes seemed to bore into my soul, as if questioning my reluctance in accepting her into my heart and home. Shloka and Kartik picked Sparky up after the allotted 2 hours and trudged out to leave her back with her mother, Spooky. I followed them there and when my friend opened the door and saw me, she knew I had changed my mind. She picked up Sparky and put her in Shloka's arms and told her she was hers forever, a gift.
Shloka couldn't believe her ears, she looked at me for confirmation and I nodded in agreement. Kartik and Shloka hugged me and promised to look after Sparky, clean up after her, take her for walks and do everything for her. I wasn't to lift a finger for Sparky except making her food; they even offered to help me with cooking it. How long did they keep their word is another story altogether 🙂
I realized that sometimes the happiness of those we love is more important than self-preservation. As I glanced at the tiny puppy sleeping in my daughter's arms, I thought to myself, "I am so much bigger than her, what can she do to me?"
My children understood something crucial that day too, they were convinced I loved them more than life itself and would go to any lengths to shield them from life's blows and safeguard their happy smiles. By welcoming Sparky into our house, I added another loving member to my family…contd.
By Sulekha Rawat
Check out some other Bloggers participating in the challenge: AtoZ List 2015
And the Blog-A-Rhythm AtoZ posts featuring many bloggers