Welcome to my space.
This is my fourth time at #AtoZChallenge and my theme this year is Sparky. You can read about my theme in detail here.
Blogging From A To Z Challenge (April 2015)
Baby Sparky
My kids wanted to bring one of the puppies home, they begged me to but I hardened my heart and said a firm 'No'. My daughter, Shloka, was the instigator and young, Kartik, went along with his elder Didi. They tried to wear my defenses down but I stayed unrelenting and firm on my decision to keep our house dog-free. I was terrified of dogs, even small puppies. This story from my childhood days will convince you of my fear; I am not proud of my actions back then.
I was about 10 years old, terrified of dogs, when my dad's brother and his family came to stay with us for a couple of months. My uncle had three children; the youngest girl was 3 at the time and was very attached to me. Back then Mumbai was called Bombay and it wasn't as crowded and congested as it is today, also we were lucky enough to live in the most beautiful and charming place in Mumbai, right next to the Arabian Sea, in Colaba, Bombay. I was born here and lived in this paradise for 18 long years; these were the happiest years of my life.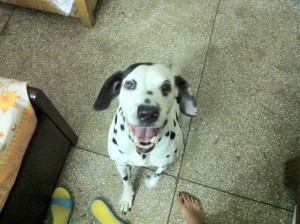 One day we were playing in our building's compound when a vicious dog, (he looked scary) cornered us. I froze with fear and did the unthinkable, pushed my little cousin towards the dog as if offering her as his meal and ran up the stairs to my house. She managed to survive being eaten by the dog and came home crying, accusing me of abandoning her so heartlessly. My aunt was shocked at my behavior and so were my parents, it's been 40 years now but my family members still bring up that incident at our every get-together and have a hearty laugh at my expense.
How could I think of bringing a dog home? I gave my kids the ultimatum, the dog or me. To my relief, they chose me, I should have guessed they were up to something but I was so relieved at their largesse that I let my guard down. The little monsters had a sneaky plan and I was the patsy, I just didn't know it yet.
By Sulekha Rawat