The Tea Leaves told the story                                                                                (Hundred words on Saturday prompt)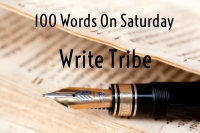 The dregs at the bottom of the porcelain cup told a story of strength and fortitude, the brown tea leaves made unfamiliar but intriguing patterns on the sides of the cup. The sweet taste of aromatic tea had left a tingling feeling in her mouth, refreshing it and also making her feel drowsy and lethargic.
Her triumphs were depicted on the white walls of the delicate crockery, like an exquisite work of art by some famous artist. Each moist strand, every tea leaf proudly held its place; there was no ambiguity in their smooth lines and curves. She felt happy.
Linking this post to Write Tribe's 100 words on Saturday