100 Words on Saturday 2014 #16 at Write Tribe
Your favourite author and what you'd like to discuss with him or her.
100 Words on Saturday 2014 – # 16
Every moment in life is an act of faith From the book by Paulo Coelho, ' Brida'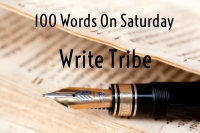 He is a writer whose books speak to my soul; I get lost in the worlds he creates with his words and find myself pulled into the emotional tides of his eloquence. This prolific writer is Paulo Coelho and his writing has multiple layers, every time I read him, I learn something new.
When I meet him, I want to ask him about his inspiration, who or what is it that brings out such deep and sometimes disturbing emotions in him? Another very important question is about his book, Brida; is she real or a figment of his limitless imagination?
By Sulekha Rawat