A writer's mind works in mysterious ways, in the flurry of writing, reading and commenting during the #AtoZchallenge, the idea for this story popped into my already overworked and hyperactive mind 🙂
This April has had its shares of good and bad, made a lot of new friends, reconnected with old ones but also lost a dear friend this month, she had been fighting an illness for almost a year. Life is so unpredictable, don't know what has prompted me to start this project but I sure do hope to complete this story before the next challenge.
SIYAHI – THE INK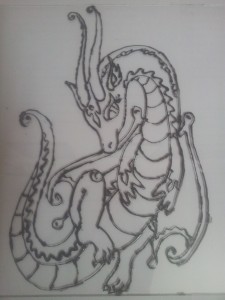 Siyahi can see what others can't; she can look into the future, peep into the past, hear the unsaid, touch the unseen, smell the stench of death and even talk to the departed, at times. She is a savior of the tormented souls. What she sees becomes her memory and what she witnesses becomes her ordeal.
Twenty years ago, Shaan had labeled it a curse; a disturbed mind's delusions, and left Siyahi at the crossroads of life. Today the very same curse seems like a gift to him and he is back in her life, begging her to help him and his family. Shaan and Siyahi are in a race against time to solve the mystery of the disappearance of his ten-year old son, Shourya. He was last seen on the school grounds during the long-break, nobody knows where he went since then.
THEN – Shaan had hoped for her visions to stop appearing and making her crazy, he had hated seeing her suffer due to the sudden memory flashes.
NOW – He prays she sees them 24/7 so that he can find his son and rescue him. The only fears he has right now are: What if the images stop appearing in her mind? What if loses her special powers and becomes a regular person like he had wanted her to be twenty years ago? What will happen to Shourya? Where is Shourya?
By Sulekha Rawat