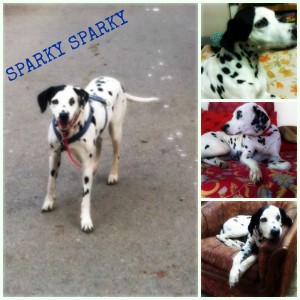 Inspiration
A friend had written these few lines in my slam book in school, long ago.
"Just to see you and hear you will be joy ever now,
but to be near you will thrill me through and through.
That is of course a dream but this is true,
just like the sunflower lives for the sun shower,
My inspiration is You." –  author unknown

I don't remember who wrote this and didn't really took it seriously then,  but now it feels good to know I was someone's inspiration.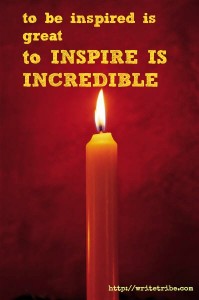 Today we have been asked to write about someone who inspires us, there are so many people in my life who do but I will talk about someone who is the most inspiring of the lot, and that is my darling ten-year old Dalmatian 'Sparky.'
Those who know me well are aware of the sad fact that Sparky is suffering from kidney failure and her health has deteriorated for the past 6 months. Her condition is so bad that we have to give her IV fluids every alternate day and she is on a special renal diet, and also a whole lot of pills and syrups.
Looking at her you wouldn't know how sick she is because she is a warrior like my husband and her dad and puts up a brave front for us. I have learnt the meaning of not giving up from her. She is a fighter and has clawed her way back to us with her strength and affection for us.
She doesn't complain like I do when I am a little under the weather; instead she just oozes unconditional love and soothes our weary hearts with a lick of her tongue and her wagging tail. She keeps us happy and makes our troubles go away, although her illness must be troubling her a lot.
She gives without expecting anything in return and the enthusiastic welcome she accords us every time we step into the house is heartening and a joy to witness. If only we could be so happy to welcome others in our lives, display our true emotions, and not pretend, life would be so much better.
I fear her going away, the loss will be unbearable but the memory of her time with us will fill my heart with love and help me deal with any eventuality. She will live on even after she is no longer with us and that is what I want for me too; to touch lives and stay in people's hearts and be remembered for our good conduct, to make a difference in society, to inspire.
By Sulekha Rawat
I am participating in a fun festival of words this week:-) This post is written for The Write Tribe Festival Of Words, ( 2nd to 8th March)