100 Words on Saturday – Prompt for this week: How do I tell her about you?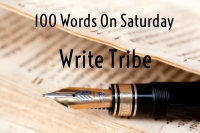 The veil of forced cheer hides the confusion in her eyes, her shoulders stooped under the weight of her hazy memories. It doesn't help that you are missing from the house too, running errands, she says.
She tells me you had called last night and asked about me, were waiting for me to come visit you in Mumbai.
The barely perceptible twinkle in her eye resembles the flickering of a lone lamp in the face of a gusty breeze. How do I break the news to her and crush her already damaged heart? How do I tell her about you?
Sulekha Rawat