Wednesday Prompt 2014 – #5
Our Wednesday prompt comes from Shiva Kapoor who blogs at Where The Mind Is Without Fear.
I/ She looked most beautiful…….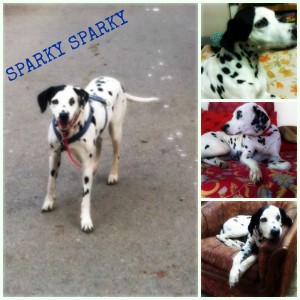 She has always looked beautiful, right from the moment she was born, ten years ago. Sparky is a Dalmatian, with a black pirate's patch on her right eye and ear, making her look like a female version of Captain jack Sparrow of the famous movie, Pirates of the Caribbean.
We all get an inferiority complex when she is in the frame with us, her pictures come out nice and bright, while we look pale and dull, compared to her exuberant and vivacious personality. Sparky loves to pose; she really digs it, and is present in 90% of the pictures we have clicked at home.
She is also the most well-read Dalmatian around; what with my husband studying for his refresher course in flying, my daughter reading case files and preparing drafts for the cases she is working on at her Law firm, my son studying for his business studies exams and me brushing up on social media articles and info graphics, Sparky is the constant in all these scenarios. If she could speak, read and write, we are sure that she would ace all the tests and come out with flying colors.
Lately she hasn't been keeping too well and had to be taken to a hospital for blood transfusion, on the way back home she had put her head on my daughter's lap and looked at me with her big beautiful eyes, as if to reassure me that she was feeling alright and was on the road to recovery, she looked most beautiful.
Suekha Rawat