T for Travel in the AtoZchallenge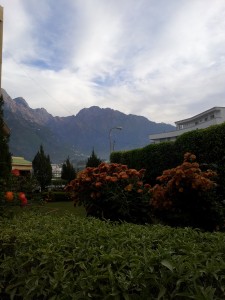 Travel
I am going on a little trip with my mother and my siblings to Dehradun and Mussoorie this week. This is a long-awaited trip because my mother has been pretty unwell in the past couple of years and had been admitted in the ICU ward of Lilavati hospital twice in the last two years.
This is the first time since her hospitalization that she is undertaking such a long journey, even though she may need a wheelchair to board the plane. Climbing stairs is a problem for her otherwise she is able to walk on plain ground aided by a walking stick.
We have planned to take her to a beautiful resort up in the hills and spend a few days just having fun and enjoying each precious moment granted to us by god so graciously. After losing my dad, life has become a bit incomplete and broken. This trip might just heal the still raw wound and make us forget our cares and losses for a few days.
Friends pray that we  have her blessings in our lives always and  she makes a full recovery so that we can plan such trips more often.
Thank you and bless you all for your love and support.
Sulekha aka Lucks
p.s. I will try and post something while I am there for U,V,W,X…bear with me if I am not able to for some reason.