All I have ever wanted to do in life is to write…words spill out of my mind onto the paper of their own accord. I don't seem to have any control over them or my fingers holding the pen, scribbling on the pages of my notebook. I have no clue when I started Xeroxing my heart and sharing my feelings with the world.
Today I plan to think and write; no uncensored sharing of thoughts today. I wait but nothing comes out, I blink and flex my fingers, still nothing. I look around to see if someone is watching my plight, there is no one around. I surf, the net, update my status, tweet something and then come back to my article, nothing yet again.
To hell with filtering my feelings and emotions, I decide to just let it rip. And there is no stopping me now; I am on the mothers of all rolls. I am back with a pageful of random, disjointed voices of my head, out in the open. My heart and mind are unshielded and unprotected, raw, exposed, vulnerable and unapologetic of their outpourings. I am a writer and I write…
Blogging From A to Z April Challenge.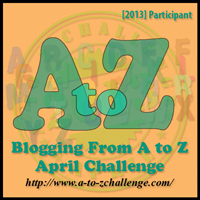 Sulekha aka Lucks