"Dogs are miracles with paws."  ~ Attributed to Susan Ariel Rainbow Kennedy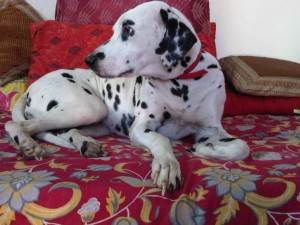 Shloka's Sparky …
We have a beautiful eight year old Dalmatian daughter named Sparky; this is how she came into our lives: "My little dog – a heartbeat at my feet."  ~ Edith Wharton
My daughter, Shloka the Firstborn, adores Sparky; and those two fight and play like sisters. Shloka carries Sparky around as if she were an infant, feeds her a "taste" of everything from her own plate, and even playfully bites her ear when they're mock-fighting. Basically, spoils her rotten. She is the sole reason Sparky is in our lives; she and a dear friend, Sukhi.
By the time Shloka was 9 years old, her persistent demands of a pup had intensified. I placated her by saying that we lived in a flat and it would be cruel to the puppy to keep him cooped up in a flat, with no place to run about and play in. (Since the older excuse of a baby brother was fast growing up) She gave in to my logic at the time, but five years down the line, we were allotted a palatial bungalow with a huge lawn, front and back. This was in Katari Bagh, Kochi, Kerala: undoubtedly, the most beautiful place in India.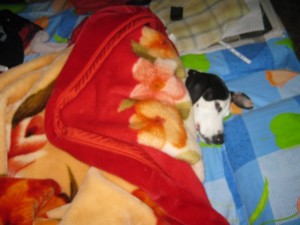 The day we shifted into our new house, Shloka was back on my case, "Mom, you had promised me a dog once we moved into an independent house. Now we have a lawn for her to play in. I want my dog now, please, thank you." All my pleas fell on deaf ears and she ranted and raved, complained and sulked, trying to wear my defenses down with her constant appeals.
 My dear friend, Sukhi, whom I've known for the past two decades came to Shloka's rescue, and to my dismay, offered to give, Shloka, her Dalmatian Spooky's puppy as a gift. Sukhi is a different matter altogether and I won't be able to do justice to her in one or two paragraphs of my post. I need to write a book on her, or at least a chapter. She is the most warm-hearted person I've had the good fortune of meeting. She loves animals, kids, old people, God, everybody; she is a Good Samaritan and a wonderful human being.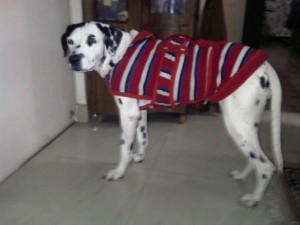 When spooky was in labor, we got a call from Trisha and Sonu, Sukhi's daughters, excitedly informing us that Spooky was about to give birth to her pups. Before I could even put the phone down, my kids, Shloka and Kartik were out of the house and racing towards Sukhi auntie's house to witness the birth of the pups. We all fell in love with this tiny pirate pup, and Sukhi picked her up and put her in Shloka's outstretched arms, saying, "she is yours to love and keep. Look after her well." Shloka became Sukhi's fan that day and I was dethroned from her affections. Thanks a lot Sukhi, for taking my daughter's love away from me. 
"There is no psychiatrist in the world like a puppy licking your face."  ~Ben Williams
I am so thankful to my friend for giving Shloka her puppy, because it changed her completely. Shloka, a bright, opinionated, willful and expressive child, was going through a rebellious phase at the time. Sparky helped calm her down, redirect her energy and love towards her and transformed Shloka into an angel from a rebel queen. This was just a couple of months before her tenth standard boards and Sparky helped her concentrate on her studies too, and had a big part in Shloka's excellent result. My daughter is studying Law now and turns 23 years young this month, her love for Sparky hasn't lessened but has magnified a thousand fold and their fights and games continue to date.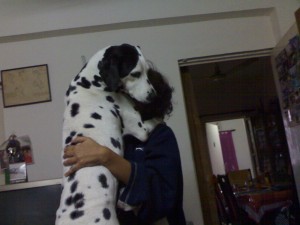 I think all kids should have a dog of their own to love and care for, it teaches them about responsibility, compassion, unconditional love and social interaction. Sparky is also responsible for my weight loss, however negligible it may be. Taking her for walks twice a day and climbing two flights of stairs daily has helped me stay fighting fit. She hates loud noises so we can't argue and fight in her presence; she helps lower our blood pressure and keeps us healthy, happy and grateful for her unconditional love and loyalty. Thank you, my dear friend, for this wonderful gift of love; we all are indebted to you for life and I am not scared of dogs anymore. 😉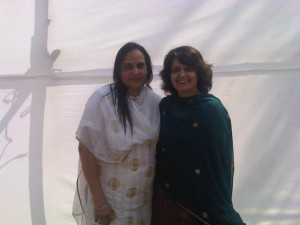 Sulekha Rawat