Stomach tales by Kriti Mukherjee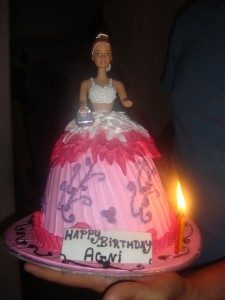 I have this urge whenever I write about food to start it with – We Bengalis live to eat and not the other way around. I think I have used that sentence at least two times in different articles before. But here I want to give you an original and non-fictitious example. It's an example of gluttons among my family, mainly comprising of two people – My Dad and me.
Our palates are almost identical, we eat at almost exactly the same speed; we love to cook when it is not a compulsion and love a unique mix of spices in our recipes. We also always overeat when we are together. I don't know if it is an act of the chemical reaction between us or whether something else is at play but me and my partner in crime are guilty of gluttony whenever there is food on the table and our hearts are beating in close proximity. The fact that my Mom is a magical cook has nothing to do with this!
It's a joyous time for me when my Dad comes over for a visit wherever I am in the world.  I usually celebrate it with taking him out to my favorite restaurants serving varied cuisines (Vietnamese, German, Korean, Indian and Ethiopian being both our favorites). By the end of a typical week of indulgence we are so tired of food that we often avoid each other just in case the devil with sauce dripping horns appear in our heads again. My Dad quietly asks my Mom to make a plain Indian daal and rice for lunch.

But we are in trouble again! I overhear the instructions and quietly bring out the multitude of pickle bottles for accompaniments – we have garlic, red stuffed chilly, mixed pimenta, small red cherry like dalles (from the Himalayas), chicken, pork, dried fish and more. Then I slice up a salad with olives, cheese, cucumber, turnips, carrots, onions – mix it with some herbs, lime juice, orange zest, salt and pepper. While my Dad smiles at the relief and pride of the decision for a simple meal – I set up the table with my contributions. Ma's aromatic Daal and steaming long grained basmati come last. We give them a place of importance at the center of the table and call the family for lunch.
In spite of himself Dad can't help but break into a smile when he sees my creations. He gives me a devilish grin and starts mixing his rice first with a mix of pickles – he creates an epic dish by accident and passes a spoonful to everybody on the table. Ma declines being a person of principle when a pact has been signed but I beg for more even after he has helped me with several refills of his mix. By the time the first course of rice and pickles is over we have already over-eaten. But we start to devour the daal and rice with salad with a full stomach. We resign only after clutching our tummies and making promises to each other never to cross the line in future.  Our stomach situation is worsened considerably with the uncontrollable laughter at our weakness.
Next day we tell ourselves it's going to be steamed vegetables only but I am already thinking of making a white sauce to go with it!!
Kriti Mukherjee