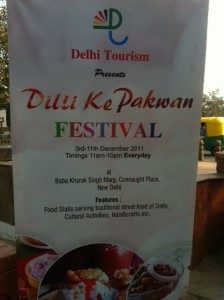 Nothing would be more tiresome than eating and drinking if God had not made them a pleasure as well as a necessity.  ~Voltaire
Delhi tourism had organized a food festival from 3rd Dec to 11th Dec 2011, at Connaught place. 'Dilli Ke Pakwan' food festival with traditional street food of Delhi, cultural activities, handicrafts etc. Last week I had forced my other half, who is least interested in any activity related to food and travel, to accompany me to this festival. He didn't have a choice because once I start badgering him about something, I don't stop till he gives in. I know I am a bad person but I can't help it, I have to nag nag nag until my wishes are granted 🙂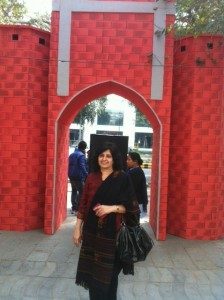 Back to the food festival, we reached there at 12.45 pm, just in time for lunch and what a delicious lunch it was! There were paranthas (stuffed and fried Indian bread) from the famous Chandni Chowk, jalebis( this Indian dessert is orange in color and is made up of flour and water, deep fried in intricate circular shapes and then dipped in sugar syrup), Gol gappas, pao bhaji, chole bhaturey, momos, kebabs, chat, kulfi…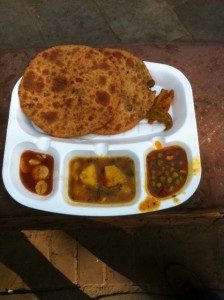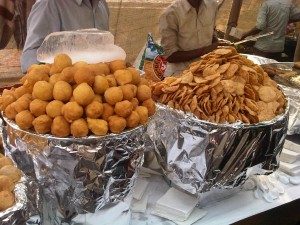 The first stall I visited was the Paranthe wali gali. The paneer and mix vegetable stuffed paranthas were delicious but deep fried or maybe that's why they tasted so good.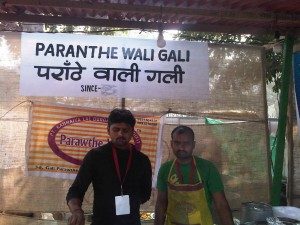 There were a lot of stalls selling yummy food and I wanted to taste all the treats. I was so greedy that day. I had Kulfi, jalebi, pao bhaji, gol gappas and paranthas. I must have put on 2 kilos in two hours. But it was worth it because I don't eat like this everyday, only once in hundred years. This food festival was organized to celebrate 100 years of Delhi. So I was allowed to celebrate 🙂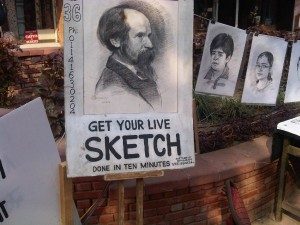 I also had my sketch drawn by an artist but my sketch doesn't look like me at all, the onlookers were giving drawing tips to the artist and I think that must have thrown him off course. You can be the judge…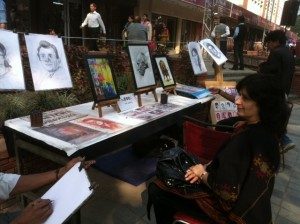 After 15 minutes of sitting still in front of half of Delhi and the artist, I had a sketch in my hand and the woman in the picture looked like my distant cousin 🙂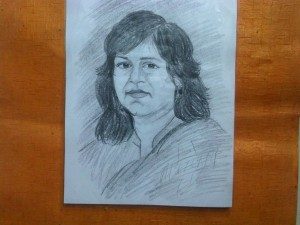 There were a lot of decorative items on display, I went crazy clicking pictures with my phone 🙂
This slideshow requires JavaScript.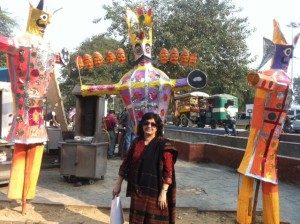 This is me, exhausted after eating so much food and holding a picture of some vaguely familiar person in my hand :).I had a great time indulging in my favorite hobby, eating.
Everything I eat has been proved by some doctor or other to be a deadly poison, and everything I don't eat has been proved to be indispensable for life.  But I go marching on.  ~George Bernard Shaw
Sulekha aka Lucks