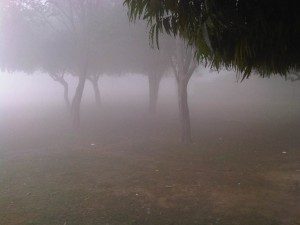 Years ago when I was doing my graduation at Kodaikanal, Tamil Nadu, a lot many of us gathered at a small restaurant where they used to serve us with delicious Biryani. I always loved them for the kind of spices they add for extra taste. If you haven't been to Kodaikanal, a hill station in India, you must know that the place is cold, filled with fog and continuous drizzle.
So I developed this habit of exploring new places and food courts. Since I was the president of Nature Club from our college, the freedom to choose the places to explore every weekend was a fun activity.
One fine July dawn, we (a bunch of back benchers) gathered together to spot another place to soothe our eyes. So we started our journey to a place which was 60 kilometers from Kodaikanal. Apparently, this place looks just like one of those infamous paintings. We never thought how this place would look like. So we were traveled. As we reached the place, by travelling through all the rough roads and bridges, we were amused. The place was an absolute beauty. However, there was hardly any place to eat. So we walked miles to find a place where we can eat, but found none. And my stomach craved for food. It was a long journey. And I was very hungry. After walking for so many miles, we found a small tea shop. It was about 2 p.m., and the place was covered with fog. It was one of the best sights that I've ever seen in my whole life. If you know what I am trying to say, then you got to explore the untouched beauty of nature.
Anyway, let's come back to the topic.
We asked the person who greeted us inside to the tea shop, if there are any restaurants around. He sighed and said, none. And we looked around and found Masala Dosa been served. All of us rushed towards the available seats and asked for Masala Dosa. He said 5-minutes. And we waited for 5 minutes. After 10 minutes, he came with those delicious Masala Dosai. We started having them, as though we have never seen or tasted food. By the end, we must have ended up eating around 7 to 8.
Food… Places… Culture… I love them all… You might wonder why I picked this incident to write. I have travelled and tasted all sort of food. However, I still remember that Tea Shop. Because it is worth mentioning how tasty and pure, it was. So next time, if you visit a new place, it's alright to take a chance. You never know; you might just taste the best food in your life. For all the time spent in this world, travelling around the world, and tasting every kind of food is one thing I love to do. And I am sure you all love it too.
Nithin Jacob