CAN YOU DIGEST THIS?
by Janaki Nagaraj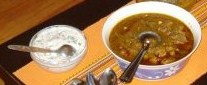 I have had a huge crush on Shah Rukh Khan since his "Fauji"days. As we grew up (me and him!), I grew out of this crush. But, I still love to see him on-stage. His energy & sense of humor is very charming.
Well, what has SRK to do with this Stomach Tales? In his recently released movie, "Ra-One", he portrays the role of a South Indian and in one scene, he is seen eating noodles with curds! YUK!
For us South Indians, no meal is complete without having a morsel of curd rice at the end of the meal. We practically eat everything with curd…..but, noodles with curds? NAAH!
We eat upma with curds, poha with curds. We have a magic powder – the chutney powder which when mixed with curds acts as a curry to rotis, dosas, idlis, rice rotis, ragi rotis….etc.
But, noodles & curds? No Way!
Avial, a type of mixed vegetable curry is made with curds. We even make rasam, and kadi with curds….But, noodles and curds? Crazy!
There are various types of raitha to go with pulavs and biryanis….But, noodles with curds? Hard to digest!
Janaki Nagaraj