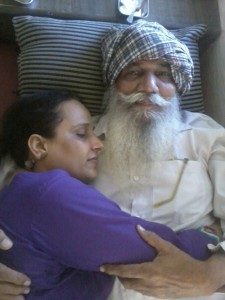 From Canada to India, with Love…
I just can't stop thinking about My Father today, my heart is so heavy. I want to be by his side again, want to be his little baby again and hug him tight, so that he can't leave me and go away. He has been my hero since my child hood. Even when I was barely a year old, I could not think of spending a single night without him.  I would cry and would also get fever in his absence. Because I knew that when he heard that I was sick, he would come back running, from where ever he was at that moment. I would pray to god, to bring him safely back home, whenever the clouds burst over Mumbai during monsoons.
My father celebrated the birth of his daughters as joyously as his sons' birth in the house. He enrolled his daughters in the same school as his sons' and he never asked his daughters to leave the room whenever he and his friends got together at home. He didn't discriminate, didn't treat his daughters any different than his sons.
He is a man who taught his children what helping someone is really all about. We have seen him getting up mid-way through his meals numerous times, to rush out and render a helping hand to someone in distress. He has sacrificed his sleep, time and money in pursuit of this noble cause. That is the reason why he was and is known as Seth (someone who is revered and respected) in our neighbourhood. Early mornings were heavenly in our house because we would wake up listening to Gurbani (sacred hymns of the Sikh religion). My father believes in the almighty and does meditation early in the mornings. In fact throughout the day whenever he has some spare time, he meditates, prays for the well being of all his near and dear ones and also of complete strangers. That's the kind of man he is.
Growing up in the family where he was the boss was fun, although he was boss only for fun times, most of the time mom would take over and make us sit and study. There was always a timetable with  her around, a time to study, a time for a nap, a time to play, time for homework…J , but only one person would give us relief from  our mom and that  was our dad, he was so cool about everything. Laid back, easy going and lenient, unlike our strict disciplinarian mom.
And after dinner time we would all to listen to the radio programmes, like, Aakashwani. Do you remember the famous 'modi ke matwale rahi, Binaca geet mala, Bournvita quiz contest….. We could easily win kbc (Kaun banega Crorepati?), thanks to those programmes.
I Still remember the day I was to start my college life I was excited, not for studies, but because I was going to start playing hockey in college. Dad took me shopping for my hockey kit, got the best for his daughter, he was so happy and proud of me. He would come to the ground and sit and watch me play,  and when I came back home, he would be ready with my diet, that was 2 eggs beaten in milk and I gulped them down, bottoms up.
When I was young ,whenever the song "babul pyaare" played on the radio, I would hold him tight and say," I will never leave you dad", and he would reply, 'Girls have to get married and go to their own house'.  When the time came, I too wanted to go to my own house and he said 'hey girl I thought you were to stay with me ' and I replied, ''Dad, he loves me and he will keep me happy'. My father stood by me, when I needed him the most. Even when few of my family members were upset with my decision, he was on my side.
Love you Dad, I can never repay you for all that you have done for me but I promise to be a good human being, like you wanted all your children to be. I will be there whenever someone needs me; I will be helping people and being thankful to god for everything he does for us. Love you dad and once again thank you for being there for me, always.
Sukhvinder Kundu