The Dehradun Diaries contd….This was my fourth visit to the city of love, Dehradun, and still no interaction with Ruskin Bond :). I was convinced I was jinxed, but then a ray of light appeared out of the blue. It led me to the BEEN THERE, DOON THAT group. Indiblogger had organized a walk for bloggers with the BTDT group. They took us on a 'Ruskin Bond walk' and introduced us to the young Ruskin Bond through their stories and took us to his favorite haunts in Dehradun, showed us places he used to visit, paths he used to walk on and the famous THE ROOM ON THE ROOF. The room at Ashley Hall is now a part of the Tanishq showroom, but we managed to see it from the outside…
This slideshow requires JavaScript.
The Room on the Roof is a novel written by Ruskin Bond. It was Bond's first literary venture. The novel revolves around Rusty, an orphaned seventeen-year-old Anglo-Indian boy living in Dehradun. Due to his guardian, Mr. Harrison's strict ways, he runs away from his home to live with his Indian friends. Bond wrote the novel when he was seventeen and won the John Llewellyn Rhys Memorial Prize in 1957. Source
We were regaled with stories of Ruskin Bond's childhood, anecdotes about his friends; Somi and Daljeet and his love for the Pista and Chocolate cookies from Yusuf Bakery at Dilaram Bazaar. The lovely volunteer from the 'Been There Doon That group' told us some interesting stories and titbits about Ruskin Bond's early years in Dehradun.
Ruskin Bond was only 19 when his story was published for the first time in the newspaper, Illustrated Weekly. He ran to the National News Agency, the oldest news agency in Dehradun, and bought a copy of the Illustrated Weekly. He said he was the only one excited about his story.
'When you are nineteen, the world is not listening to you.'- Ruskin Bond
Another interesting incident she told us about was when Ruskin Bond's rich friend gave him Rs 10. It was one month's pocket money in those days and Ruskin didn't know what to do with so much money. First he ate cookies to his heart's content and then bought books with the rest of the money.
She recited a lovely poem by Ruskin Bond.
'I was friends with the baker's son
I gave him my books, and he gave me his buns
I told him about the hill and I told him about the lake
And in turn, He baked me a cake.' – RUSKIN BOND
The Ruskin Bond walk started at Ashley Hall and ended at Crossroads Mall. The mall is built on the land where the Mango orchards used to be, opposite Ruskin Bond's grandmother's house. We were shown a house which we were told seemed to be the site of his grandmother's bungalow, on old survey road.
Another aspect of Ruskin Bond's personality was revealed to us during the walk. He was a great entrepreneur; the signs were evident during his childhood itself :). An incident that validates this claim is when Ruskin Bond decided to make friends with the wrestler like caretaker of the mango orchard so that he could get the mangoes from the orchard. The owner of the orchard was Seth Govind Ram but Ruskin didn't know him, he only knew the caretaker who let him take mangoes from the orchard J Ruskin Bond says, 'I didn't know Seth Govind Ram, but his mangoes were very good.'
Another incident that proves his resourcefulness was about the clever way Ruskin Bond managed to see all the Hollywood movies being screened at The Odeon Cinema at Ashley Hall. In those days Odeon Cinema was the only hall where Hollywood films used to be screened. During the interval, gramophone records used to be played to keep the people entertained. Ruskin Bond found the records to be repetitive and their music boring. He approached the Mr Khanna, manager of the Odeon Cinema and proposed a deal. Let me watch the movies for free and I will lend you my record collection to play in your hall during the intervals. He agreed and Ruskin Bond watched a lot of movies for free 🙂
This brief glimpse into the life of a prolific writer satiated the reader in me a bit but I am not giving up until I get to meet the eloquent and elusive Mr Bond. Hope keeps me going 🙂
"Hope" is the thing with feathers –
That perches in the soul –
And sings the tune without the words –
And never stops – at all….
~Emily Dickinson, c.1861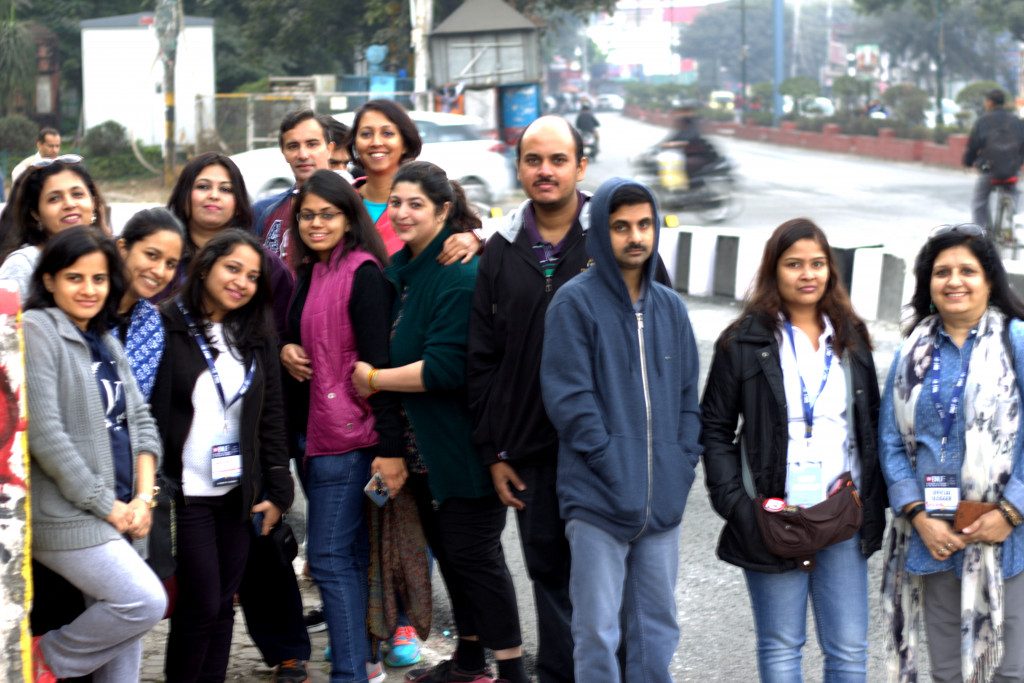 Thank you, Been There, Doon That. I thoroughly enjoyed listening to stories from Ruskin Bond's childhood days. It was a walk to remember 🙂 I am glad I took the train to Dehradun for the #BNLF event with Indiblogger 🙂
By Sulekha Rawat