BOOK REVIEW
Book –  The Doodler of Dimashq
Author – Kirthi Jayakumar
Publisher – Readomania
ISBN        – 978-93-858544-4-6
Pages      – 201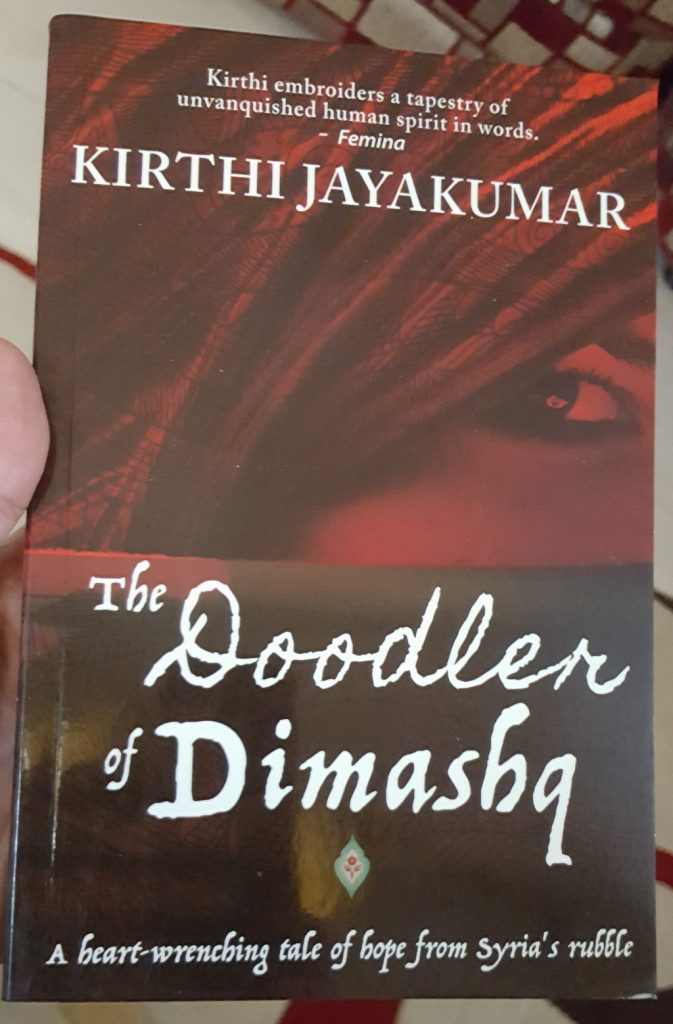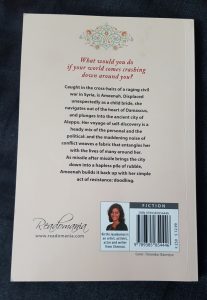 A doodle is like life. Random. When you finish the entire picture, you can't pull one out without pulling all of it along – Kirthi Jayakumar
The book starts with a doodle and ends with one. There is a story being told by these intricate designs along with the captivating words. Kirthi has written two stories in one book; one in words, and the other in doodles. It's a great way of coupling beautiful artistic expression with fascinating writing; hats off to her for this brilliant technique. Kirthi's writing brings to mind a sculptor chiseling a rock to make a beautiful statue.
The story is set against the backdrop of war in Syria. Ameenah, a happy, school going teenager living in Damascus, becomes a child bride and is forced to grow up overnight. She is pulled out of school abruptly and married off to a man who thankfully turns out to be a kind one. The good times don't last long as one day her new home in Aleppo, is attacked and destroyed by missiles.
Ameenah's journey from Damascus to Aleppo and finally to the Art studio in Kos, is a tumultuous one. Every step a courageous one. When the ground collapses and gives way under her vulnerable feet, she manages to move forward with sheer will power. Her strength comes from many sources – her love for her family, her belief in her husband's goodness, her friendship with Qudsia, her passion for doodles, and concern for the orphaned Maryam in her care.
During the most heartbreaking moments of Ameenah's young life, Kirthi asks in Ameenah's voice, ' Have you had your own, personal earthquake? Here is what it feels like. Your insides feel like they are stretched, ready to explode. And from outside, there is a crushing pressure that is holding you down, pinning you with a force that you've never known…'
I had my personal earthquake while reading this intriguing and heartbreaking tale – Sulekha
There are 15 chapters in the book and each chapter begins with a doodle that summarizes the chapter and if you look closely, you can predict what's coming. When I came upon the doodle, Blank, I was afraid to read that chapter and I was right in being fearful.
Ameenah's will to survive, rose out of the rubble of her fallen city. She fought back to keep her memories with the only weapon she had, her doodles. This is a story of love, courage and perseverance in the face of death and destruction. Kirthi has crafted this beautiful treasure chest, full of priceless emotions, sentiments and longings of an innocent young girl who dreams of a simple world with no conflict to mar its beauty.
The bond between Ameenah and her husband, Fathi's, grandmother, is lovely. The love between Fathi and Ameenah is beautiful. Once, when Ameenah is heartbroken and missing her family, she tells Fathi about being homesick. Fathi tells her to use another word instead. He introduces her this word in Welsh language, Hi-ra-eth. He explains the meaning of the word, ' Hiraeth- It means the bond you share with your home.'
Her author's note begins with, 'I'll start by articulating the question that's probably on your mind. What's a girl in Chennai doing, writing about Syria?' I think she is the perfect person to write this story. Because, Ameenah came to her one night and told her story (in the fireplace of her mind). She listened to her empathized with her and wanted to share her story with the world. We need more listeners like her, more compassionate people like her who don't shrug off their shoulders and look away when faced with something that doesn't affect them.
May we all welcome those who come to tell us their stories, be it in our head or outside of it. We need more storytellers; we all are one and our suffering is the same. The loss of a loved one hits us equally hard and the pain of losing a family member is excruciating to one and all. We cannot differentiate between sufferings.
To borrow from kirthi's lines, The world is like a doodle, complex. You can't take one part out without damaging the whole – Sulekha
Besides her powerful storytelling and strong characters, what makes Kirthi an excellent writer is her sensitive narration. She manages to find the inherent beauty in things that are outwardly marred and flawed.
I leave you with these questions-
Do Ameenah and her husband, Fathi, live happily ever after?
Who will try and take Ameenah and Maryam to safety?
What becomes of the many doodles sketched by Ameenah?
I don't want to give any spoilers. Read the book and find the answers to these questions 🙂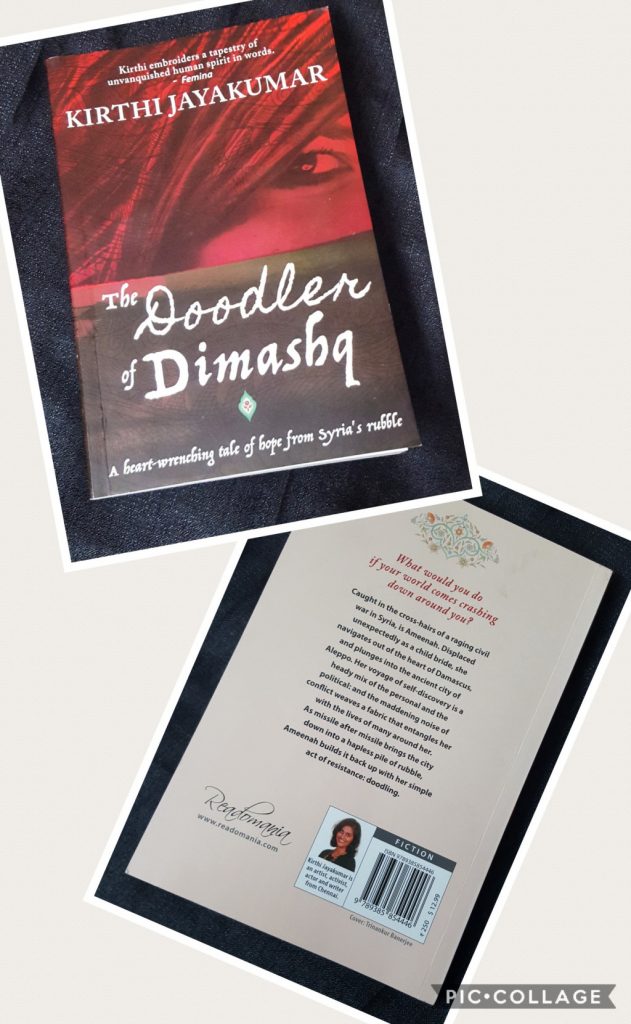 HAIKU
I have penned a few Haiku for The Doodler of Dimashq' , Hope they can do justice to the book.
I don't need a lot
Just some papers and pencils
To survive the war
Lost in the rubble
Are her hopes and dreams for life
Devastated SHE
A forgotten face
Claimed ownership on my soul
I followed him home
I am my doodles
They show you my heart and soul
Stories for the world
Give me one last chance
To gaze upon my loved ones
You can take me then
I weep for my land
Bid goodbye to its ruins
Rubble hides my soul.
By Sulekha Rawat