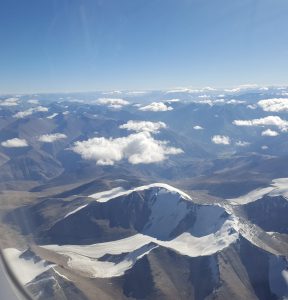 Craning her neck, desperately
She tries to get another glimpse
Of his swiftly retreating form
Waves cheerily when he looks back
The brightly lit corridors and halls
Fail to light up her dimmed soul
Her sunshine is walking away
Going off to new and distant lands.
She clung to her baby momentarily
Before releasing him from her embrace
Truth be told, she'd wanted to hold on
Keep him from moving away from home.
The tears had been kept at bay
Sobs silenced, warned to do so
Mother's heart steeled to smile
And wave a happy goodbye.
The toughest ask of a mother
Letting her children venture far
To pursue their dreams and goals
Without displaying her inherent fears.
She wished him a loving good-bye
With trembling lips and an aching heart
Prayed he enjoys his life in a new place
But remembers to call home too .
Driving back from the airport
She starts counting days and months
Until the family can be together again
Hope lights up her face and she smiles.
 By Sulekha Rawat