Blogging From A to Z Challenge (April 2016)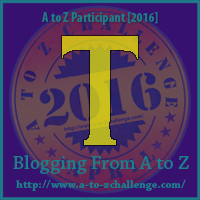 Today I traveled from the living room to the bedroom to clean up an oil spill  🙂 The letter of the day is T. The theme I've chosen for this year's blogging challenge is 'Travel', and in keeping with my  theme I have taken you along on my fun trips to various places to date. Some of my travel destinations are inaccessible by air, land and water and an active imagination is what you need for going to these out of the world destinations.
"Lucky!"
"What happened?"
"Come quick, I need your help!"
No, these aren't dialogues from any movie but a real life conversation that took place in my home today. My other half was getting dressed to go to work while I was shadowing my new house help like a ninja, when suddenly I heard him scream. I rushed in to see him standing in the middle of the room holding a bottle of hair oil, there was oil all over his shirt and dripping from his outstretched hands, there was some on the floor too. The bottle's cap had come off and spilled all over his head and clothes, it was a comic sight.
I suppressed my laughter and offered help by telling him to oil my hair with his extremely oily hands. Once he had given me an impromptu head massage, I handed over a few paper napkins to him to wipe off the excess oil before washing his hands; I even gave him a fresh shirt to wear. After being so helpful, not that I was expecting any medals but what happened next stunned me for a second before both of us burst out laughing.
Can you guess what triggered our shared laughter? He pointed to the oil spill on the floor and said, 'can you clean that with your hair'. I know it was expensive hair oil from some exotic land but did I really need to do that? I looked at my husband of 28 years and hissed, 'You are treading on thick oil'. We laughed so loudly that my poor new help looked terrified of her crazy employers, hope she comes to work tomorrow 🙂
I had to share this story. I am still laughing  🙂 🙂 🙂
Have a great day.
By Sulekha Rawat