Blogging From A to Z Challenge (April 2016)
The theme I've chosen for this year's blogging challenge is 'Travel', and in keeping with my  theme I have taken you along on my fun trips to various places to date. Some of my travel destinations are inaccessible by air, land and water and an active imagination is what you need for going to these out of the world destinations. Today we are going on a pink trip to a city very close to my heart, Jaipur. The alphabet of the day is 'J'. Come travel with me and see my world.
Jaipur on New Year's Day
I was a Rajput princess in my earlier life, I am certain of it. My long-suffering husband has no other recourse but to agree with me when I make such bizarre statements. He is a Rajput in this life, hails from a quaint village in Himachal Pradesh. We were born and brought up in Mumbai, got married there and then moved to Goa and Kochi due to his job as a Naval Officer in the Indian Navy. This put my trip to Jaipur, to trace my imaginary royal roots on a back-burner 🙂
I always wanted to visit Rajasthan – it was my heartfelt desire to go to Jaipur in particular, don't know why. Maybe I did have blue blood in my veins many lifetimes ago but which has now turned a normal shade of red.
Jaipur is the capital and largest city of the Indian state of Rajasthan in Northern India. It was founded on 18 November 1727 by Maharaja Jai Singh II, the ruler of Amer after whom the city is named. Jaipur is known as the Pink city of India. Jaipur is also famous for its Jaipur Literature Festival, world's largest free literature festival in which country-wide authors, writers and literature lovers participate. (Source)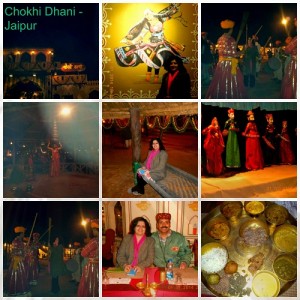 On 1st January 2014, I emotionally blackmailed my hubby to take me to Jaipur, I wanted to begin my new year on a happy and colorful note 🙂 So here we were at Indira Gandhi International Airport, waiting to board a flight to Jaipur on a cold new year's morning. I did some quick shopping at the airport, bought a lovely cardigan from Marks and Spencer; after all I was going to the pink city, to paint the town red in my lilac cardigan 🙂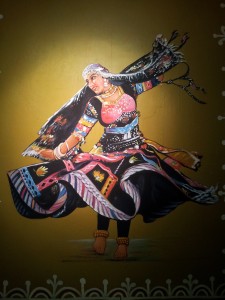 We reached Jaipur in the afternoon and the hotel's car picked us up. We checked in and after a quick-lunch headed  for Chokhi Dhani, an ethnic Rajasthani village. It has been recreated to let the guests have a taste of the simple yet vibrant lives of people of Rajasthan. I had heard a lot about this place from my friends who had been here and I was eagerly looking forward to my maiden visit to this rustic Rajasthani wonderland. The entry fee charged at the entrance covers the cost of a traditional, authentic vegetarian dinner inside the village.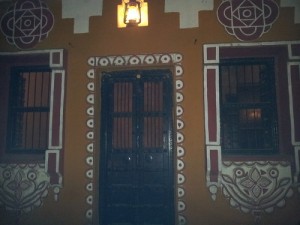 There were bullock cart rides and camel rides for a price. The astrologers were sitting holding the hands of their naive and trusting clients while reading their palms. There were women in thatched huts and mud houses, cooking traditional Indian breads (rotis)over tandoors and chulhas. Artisans were dancing on metal plates while balancing many metal pots on their heads.Henna was being applied to the tourists' hands. The puppet shows and dance (Kathputli) were a major attraction.
There were also traditional dresses that tourists could take on hire for a nominal price, and get their pictures clicked in these colorful garments by professional photographers there. There were a lot of household items laid out in shelves in the showcases for our viewing pleasure,  head-gears in various colors were on display too. The place had a homely festive feel, everybody was happy, experimenting with new cuisines, clothes, modes of transport and generally having a good time.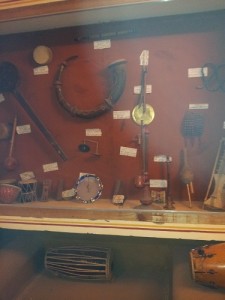 The folk dancers were doing the traditional Gujarati dandiya dance ( Every dancer holds two long wooden sticks, one in each hand and taps (either gently or with a considerable amount of force, depending on his mood and tempo of the song :)), on the sticks the person dancing opposite them is holding. The dandiyas resemble the sticks a drummer sports.  The tourists are invited to dance with the professionals on makeshift stages, which are raised platforms. I love the dandiya raas and didn't hesitate when they  called me up on the stage to dance with them.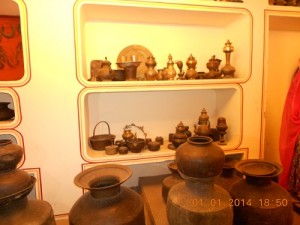 I bought a couple of skirts, mirror work bags, some cushion covers and bed-sheets from the shopping area inside the complex before saying goodbye to Chokhi Dhani. Ticked off another place from my bucket list 🙂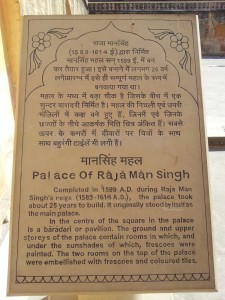 Next day we went to the Lake palace(Jal mahal), Amer fort, City palace museum, Nahargarh fort, Hawa mahal and the Govind Devji Temple. Each place needs a dedicated blog-post to do it justice so until next time, happy travels 🙂
 By Sulekha Rawat