BOOK REVIEW-
Where Even the Present is Ancient: Benaras

By Maitreyee B Chowdhury
Editor: Surojit Mohan Gupta
Genre: Poetry
Sub-genre: Lyrical Poetry
Back Cover Blurb
Where Even the Present is Ancient: Benaras is a book that seeks to tell the little stories that make us who we are. The author believes that Benaras resides in all of us Indians, in some beautiful often unknown way. The author is the Sutradhar, in that she attempts to connect an India that many do not realize exists, in that it is everybody's story. Radha, Krishna, Ganga, Benaras and Me are all characters in this deluge of poems.
This beautiful book starts with a captivating poem- Benaras: A long-lost poem
"Sometimes Benaras seems like a poem,
A long lost one, at that."
Just like the fragrance of the Benarasi kaththaa sticks to the author's self, her vivid imagery creates mesmerizing images which reach out and capture our souls with their beauty and intensity.
"In Benaras,
Every artist merges,
every traveller comes home."
There can be no better way to put across this sentiment than her own words, I simply fell in love with her lyrical poetry and soaked in each word like a parched desert-traveler.
With every poem the author provides glimpses of Benaras and its people, their lives, rituals and their fears and longings. The traditions associated with the holy Ganga and its relation to Benaras, makes for an interesting and riveting read. The soothing waters of the river Ganga trickle and surge towards our hearts intermittently in an expressive and artistic way. The readers are left trembling in the chill of the night with only the flickering lights of the floating lamps to warm them and dry their dripping garments.
The Linga is a powerful poem-
"Ganga impregnates. The widow and the sinner alike,"
Manikarnika is the culmination of all of lives' journeys, the final resting place of all.
Maitreyee takes us on a journey with the river Ganga in Benaras and shows us the depth and serenity of the place. The sins we wash off of our bodies pollute the Ganga and they seem to permeate the holy river shamelessly but she absorbs all and absolves us of our wrongdoings. Those who live in Benaras are blessed and revel in its beauty and complexity while the visitors come back feeling complete and bereft at the same time. They lose a part of themselves in the ever flowing Ganga, they leave a bit of their souls behind, in Benaras.
I leave you with these few lines from Maitreyee's last poem, they sum up her entire collection so evocatively.
"In Benaras,
Everything is a song,
a sad song and a happy song-
But a song in the end."
I gave this book a rating of 5 star for its poetic beauty, soulful expression, heart-warming emotions, lyrical flow and for making Benaras come alive in my heart and mind.
By Sulekha Rawat
About the Author- Maitreyee B Chowdhury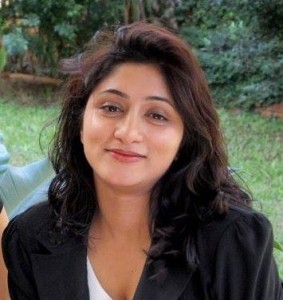 Maitreyee B Chowdhury is a web columnist and creative writer. She is author of Reflections on My India, a book of Indian traditions and spirituality in parts. Maitreyee is also author of Uttam Kumar and Suchitra Sen- Bengali Cinema's First Couple and Ichhe Holo Tai, a bilingual muti media presentation of poetry. Maitreyee is featured amongst other Indian writers such as Gulzar, Shashi Tharoor and Deepti Naval in an anthology of Indian writers Celebrating India.