On Rakshabandhan day the sister ties a rakhi (sacred thread) on her brother's wrist and prays for his safety and long life, the brother in turn vows to protect her always.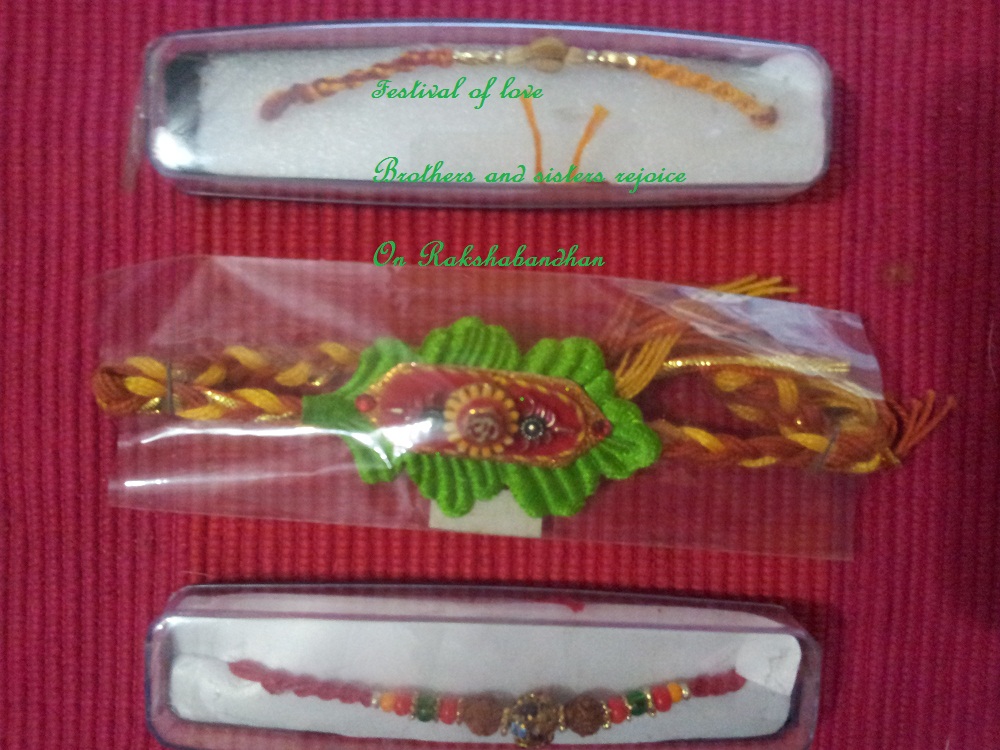 I used to love this festival when I was younger because I used to get money for tying rakhi on my brothers' wrists. Since I have two brothers, they both used to hand over the 10 rupee notes, which my parents used to give them. In the late sixties and seventies, ten rupees was good money. So come every rakshabandhan, I was richer by 20 bucks.
As I grew older, I learned why we celebrated Rakshabandhan and also realized the significance of the sacred thread which I so uninterestedly used to tie around my brothers' wrists. I started looking forward to putting a tika on their foreheads and tying the precious rakhi/thread on their wrists, I didn't care for the money they would hand over to me after the rakhi tying and prayers. I pray for their long life and safety and thank god for giving me such wonderful brothers. Today I am fifty years old and living away from my brothers, as I sit and write this post down I wish I could be with them tomorrow to celebrate rakhi with them. I am so glad my sister is with them and she can tie my rakhis on their wrists too, thank you didi 🙂
A little prayer for my brothers on the eve of Rakshabandhan-
May god bless you and keep you safe , I wish and pray that our affectionate bond remains forever strong.
SENRYU
Festival of love
Brothers and sisters rejoice
On Rakshabandhan
 By Sulekha Rawat