The 100 Words on Saturday prompt:
my grandmother/grandfather said…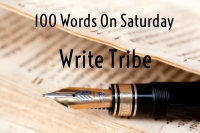 My grandmother said to me, "Open that trunk and pick out anything you like from the dress materials and saris kept in it, they are brand new clothes and not hand-me-downs". She smiled at her own wit, though her eyes glazed over with pain.
When I refused to take anything, she said, "I am 94 years old, have a broken hip bone, and these clothes are of no use to me but giving you something you like will make me happy."
She taught me so many things: smiling through pain, generosity, courage, self-respect, ability to live life to the fullest.
By Sulekha Rawat