What I like in a good author is not what he says, but what he whispers. ~Logan Pearsall Smith
Friends, can you hear the whispers of my pen? I have just come up for air after participating in the Ultimate Blog Challenge in July 2014 and have dived right back in to Write Tribe's Pro Blogger. Am I brave or what? 🙂
I am starting this month's post with a recipe today. It is something I love cooking and eating, am very proud of my culinary expertise (at least in making this dish)
Never work before breakfast; if you have to work before breakfast, eat your breakfast first. ~Josh Billings
This is the breakfast I made for my family members today. I am a Punjabi with the taste-buds of a Malyali, my kids are just like me and prefer eating Idli, Dosa and utapams to paranthas, for breakfast. Utapams are so versatile and easy to make, that I sometimes end up making them for lunch and dinner too. The batter lying in the fridge calls out to me and I can't resist its fermented aroma 🙂
Here is my recipe for the delicious Utapams–
Ingredients:
Rice 2 cups
Urad Dal 1 cup
Fenugreek seeds 10-12
Salt
Pepper
Method:
Soak the fenugreek seeds,  rice and dal overnight or for a few hours, depending on the urgency of the cook. Grind the dal into a smooth paste, then the rice and the seeds. Mix all the ingredients well and keep overnight or for a few hours till the batter ferments.
 Additional Ingredients:
Onions 2 chopped
Tomatoes 2 chopped
Garlic 2-3 cloves chopped
Green chillies 4-5 chopped fine
Final Method: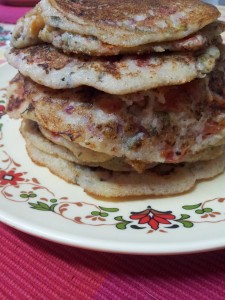 Mix in all the chopped vegetables and chillies, pour a heaped serving spoonful of batter on the hot pan and spread the mix evenly, in a circular motion. Don't make it too thin. Add some olive oil, flip the utapam after a minute or so, cook on the other side too. transfer onto a plate and start the process of cooking another one. Stack them up on a plate, like pancakes, serve hot with coconut chutney.
LUNCH and DINNER
I end up cooking these yummy utapams for lunch and dinner too, especially on days I am rushed for time. Try making these quick and easy masala pancakes, as I like to call them 🙂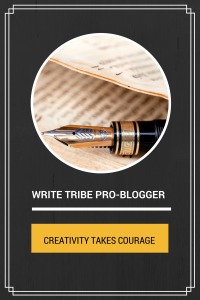 Thank You
Sulekha Rawat