Write Tribe Festival of Words 3 – Day 2 – Blog Love  writetribe.com/blog-love/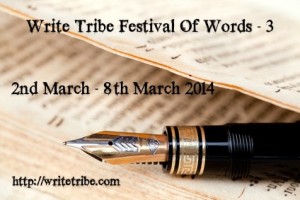 We are writing about the blogs we love reading and the people behind those wonderful blogs. I have chosen two out of my many favorites.
The first blog is called NIRJHARINI.
Ruchira Shukla's blog is named Nirjharini, it means a waterfall in Hindi. She says, 'Traveling, exploring different cultures and Learning languages is a passion and so is literature.'
She has lived in Japan for a long time and her posts about this beautiful and exotic place are a delight to read along with her other travel posts. She loves to travel and takes her readers on a visual and virtual trip with her lovely pictures and stories. She loves silver jewellery and has quite a collection, I have had the pleasure of meeting her and her stories sound doubly wonderful when you listen to her speak about her travels and experiences.
http://nirjharani.blogspot.in/2013/04/c-is-for-chai_3.html
This is one of the posts I really loved, visit her blog and prepare to be transported to different and picturesque locations via her words.
The second blog I have chosen to showcase here is, Howaboutthis, by Kriti Mukherjee.
 "Only we women have the ability (if not the power) to receive whatever comes to our life graciously and reshuffle our priorities to an almost unrecognizable stage from what they used to be." – Kriti
Kriti is an independent marketing consultant, writer and a fabulous person. I met her through her blog and connected with her online while she was living in Manhattan, and I was in saddi Dilli, sorry Newda (Noida), India. We became friends and business partners after about a year of  following each other's blogs. Her writing is so her, intriguing, expressive, complex and warm. She is one of my favorite writers and also my biggest fan. Although I like everything she writes, from short stories to articles on social media and marketing, this one is my all time favorite.
http://kriti-howaboutthis.blogspot.in/2013/09/a-book-of-commitment.html
Do visit her blog and read her fabulous posts.
By Sulekha Rawat