I knew it was my last day there
Introduced in February 2013 on Everyday Gyaan – an invitation, a prompt, a linky. Write exactly a 100 words on the prompt and publish it on your blog – a story, a poem, a mini-essay. The linky will be open right up to next Friday.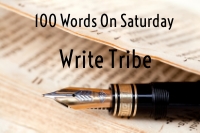 My books lay unopened, my school uniform untouched as I was forced to wear my mother's sari and blouse today. The safety pins succeeded in keeping the blouse from slipping off of my frail shoulders as I walked into the courtyard to be paraded in front of the old man who had come to collect what was due to him.
Yesterday my brother had dared to sneak into the neighbor's apple orchard along with his friend and stolen a few apples, unknowingly sealing my fate. I knew it was my last day there as I walked back into the house…
Sulekha Rawat
100 Words on Saturday will be up every 1st and 3rd Saturday of the month. Today's prompt is by the very creative Sugandha of Shades of Life. Read her latest post             here.