Gastronomical Adventures and Misadventures
By Rimly Bezbaruah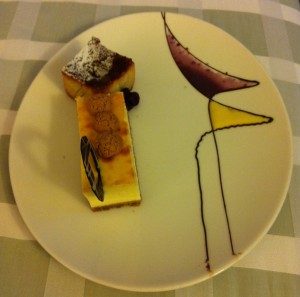 I love food! I can never diet. My brother who is a doctor now would often tease me saying "People eat to live; you live to eat, so forget ever having that model like figure!" I remember as kids we wouldn't even spare medicines! Syrups, tablets, sweet, bitter, gooey, all were devoured by us. Not that my mother starved us. But whenever she went out leaving us brats at home she would have to hide the medicines. One day she came home and was appalled to find us polishing off a whole jarful of homeopathy pills meant to relieve us of our common colds.
Growing up together, my brother and I, just one year apart in age, were a handful for my mom. Everything would be shared in equal halves between the two of us. But as time went by and we were packed off to boarding schools, my brother started becoming a fussy eater but I continued to eat whatever was placed on the table. Even to date whenever my mom tries on a new recipe I am the one she calls to try it out and the look of satisfaction on her face as I relish her food is something that I will always cherish. She always tells me that she enjoys cooking only for me.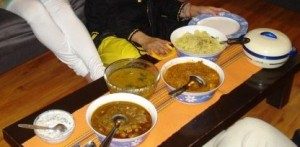 I think the perpetually hungry goblin in my stomach grew in strength through my hostel days. We always felt starved despite a good enough diet. My friend and I were all the time scavenging for food, so much so that one day we snatched a peanut from a bird! Heartless, right? But those days everything was justified in the name of food. We would wait for the visitor's day when our local guardians were allowed to come and meet us, loaded with food in their basket. The popularity of these sweet souls who took the time out to visit us was directly proportionate to the amount of food they brought. Those whose guardian did not turn up on that fateful day became the ignored ones and the ones who were visited upon by these goody laden angels were instantly flocked by all. Classmates from far and wide would descend upon them like vultures to partake the booty.
Another event that we would wait salivating was the last weekend of the month when our local guardians were allowed to take us home. The previous night would be spent fretfully imagining the gastronomical treat we would be exposed to once we were out of the hostel. Oh how we loved our guardians! To be able to finally eat "food"! Not boiled, tasteless, bland dishes that were forced down our delicate throats in the hostel. The ignominy of it!
It was on one such an occasion that my grand aunt took us to her humble home. She collected my brother and me from our respective schools for the weekend. We loved her! She never scolded us or got upset even if we finished off a new bottle of Horlicks or Bournvita in a blink of an eye! She indulged in us totally! It was dinner time and I remember she had this spread on the table, chicken curry, vegetables, rice, dal(pulses) and dessert.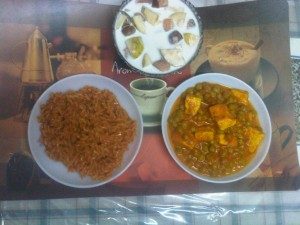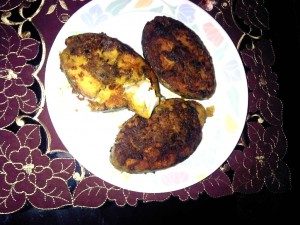 I had heard of the expression "stuffed to the gills" but that one time I experienced what it felt like. I ate like there was no tomorrow. My aunt watched in horror but without interrupting as I gorged myself till I felt that the food would any minute start oozing out of my ears and nose. I could not get up or move, so I sat rooted to my chair while my grand aunt chastised me for eating like that. There was not an inch of space inside me for water or medicine. I thought I would die that night. When I finally managed to walk, I quietly waddled like a duck to my bed and lay down. I think at that moment even the goblin inside me panicked, it knew it had gone berserk.
I can never forget that day and even though sometimes now my goblin tries to take over my good senses, I scold it and tell it to shut up. I still love to eat and I am very adventurous about different cuisines. Boarding school has taught me to appreciate all kinds of food. I am not at all squeamish. The goblin continues to thrive inside of me, sometimes I indulge it and sometimes I am in control of it but never like that night!
Rimly Bezbaruah