Dil ki daud- A Mini Marathon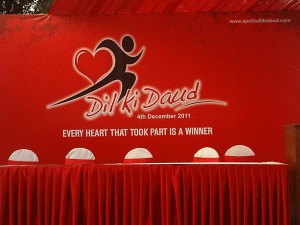 I participated in a mini marathon, campaign against heart disease organized by Indraprastha Apollo hospitals, New Delhi, India. When I reached the hospital grounds on 4th December,  sunday morning at 6.30 a m, it was packed with people of all ages and sizes. I was comforted to see women in my size too, all geared up to participate in this healthy heart marathon.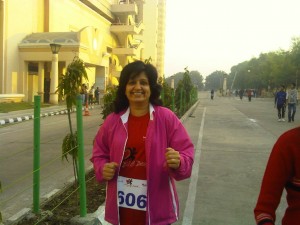 Early mornings are pretty foggy and cold here in Delhi but surprisingly, it was just perfect and pleasant. I had to take  my jacket off mid-way through my 3 km walk/run. The runners were given t shirts in three colors, Red, Blue and Black, with Dil ki Daud printed on them, this gave us all a sense of uniformity and a collective cause to run for. We felt connected to each other and everybody was smiling at each other and wishing good luck for the race. There were balloons at the start line and they were released when the race was started at 7.30 a m.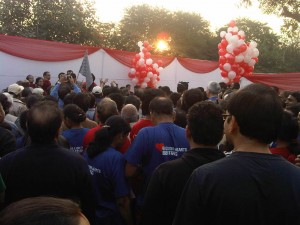 It was heartening to see senior citizens proudly displaying their badge numbers and wearing their T shirts, the light in their eyes was rivaling the sun's brightness that Sunday morning and I was humbled and honored to be in their esteemed and dignified company. I thought of my father and how much he used to enjoy his walks and his contribution to society. He was a member of Dignity foundation( senior citizen's group) in Mumbai and was always the first one at the start line for any sporting event. I miss him a lot but felt that he was around that day and was with me every step of the way.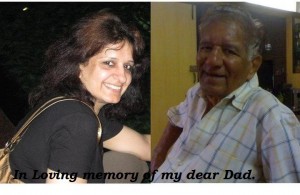 I met a lot of interesting people and made a few friends before the run, there were doctors, teachers, home-engineers( like me)  and women pursuing other professions. It was a great day to be outside and to be a part of such a noble and worthy cause. Heart health is very important at any age, and spreading awareness about this cause made us proud and happy to be out there.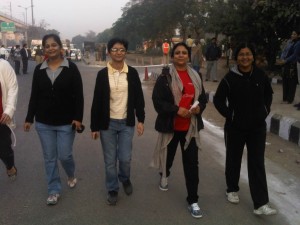 We walked in a group and chatted like we'd known each other since ages, though it was the first time I had met these lovely, intelligent ladies. I made quite a few friends and realized that we all are basically the same, all of us go through the same emotional roller-coaster and survive the ups and downs, in our own way. All of us have our own personal challenges and we all emerge victorious sooner or later, life is nothing short of exciting and every step forward is a small win.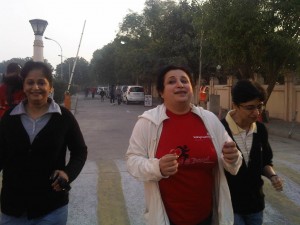 It was heartening to see the enthusiasm of the participants and before the run it was announced that there would be no prize money but only participation certificates and medals.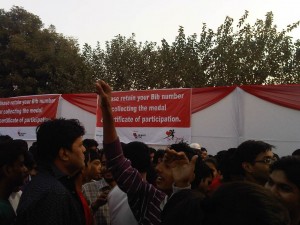 The mini marathon began and people started running, the route was well marked and the event was so well organized that there was no confusion. There were water bottles, fruits and Lemon juice at various places along the route. There was a man dressed up like a giant heart and a lady as a shoe. They walked together and looked adorable.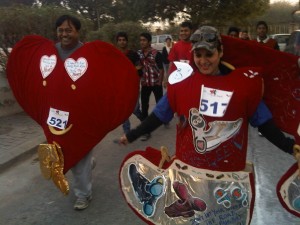 I like the messages written on the heart and tried to click a picture of the giant heart walking in front of me.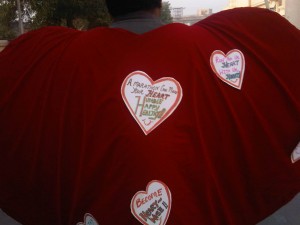 At the end of the 3 km race we were awarded our certificates and medals and a box of refreshments. The hospital grounds resembled an outdoor park with people sitting on the chairs and enjoying their fruit and juice while exchanging pleasantries with each other. My new found friends were ecstatic on receiving their medals and certificates.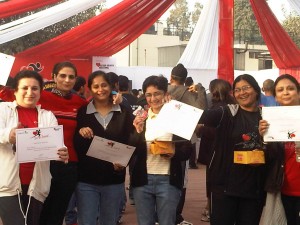 And so was I 🙂 I only wish, I had kept my eyes open for the picture. It shows I am not as fit as I claim to be, I was relieved to have finished the marathon, as my son had challenged me to do so. He had said something which stuck in my head and heart, " Mom, finish the run, no matter what". I had to complete the marathon or risk seeing the accusation in his eyes. The things we mothers do for our kids!!!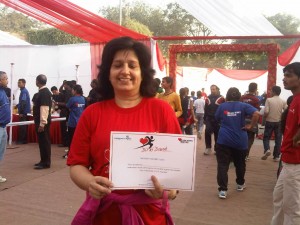 It was the most fun I did on a Sunday and I felt a sense of accomplishment after reaching back. It was my tiny effort to give back to society, something My father always believed in and also doing my bit for keeping my heart healthy and spreading awareness in the society. Happy walking and keep smiling.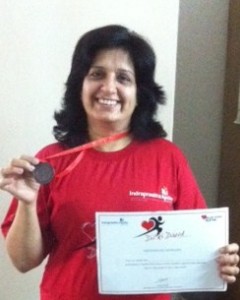 Lucks aka Sulekha